Thanh Ha Duong Dramatično Osvojio 2014 PokerStars.net APPT Manila Main Event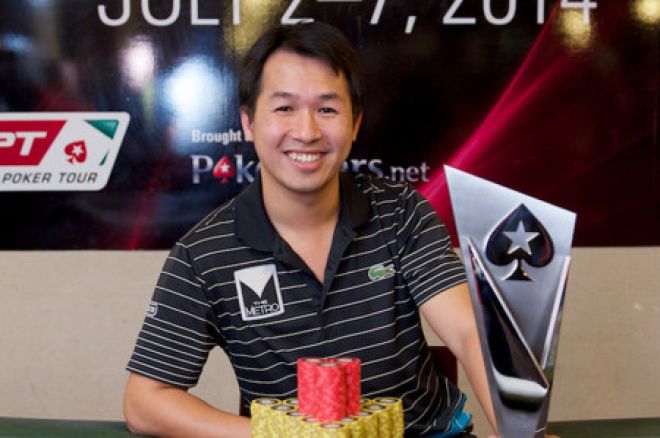 Vijetnamac Thanh Ha Duong je osvojio PokerStars.net APPT Sezonu 8 Manila Main Event titulu u Metro Card Clubu u ponedeljak u dramatičnom stilu, pobedivši polje od 260 igrača (kako to sada malo zvuči uoči WSOP-a) i pregurao je veliki deficit po čipovima u heads-up meču da bi postao krunisani šampion sa PHP3,472,000 glavnom nagradom (oko USD$79,760).
Rezultati Finalnog Stola
| Place | Player | Prize (PHP) |
| --- | --- | --- |
| 1 | Thanh Ha Duong | 3,472,000 |
| 2 | Michael Guzzardi | 1,833,000 |
| 3 | Bernardo Angeles | 1,024,000 |
| 4 | Daniel Giang | 782,000 |
| 5 | Sameer Rattonsey | 647,000 |
| 6 | Mike Takayama | 512,000 |
| 7 | Andreas Rauh | 405,000 |
| 8 | Maria Bernadette Lina | 324,000 |
| 9 | Rajeev Kanjani | 242,000 |
Finalni dan eventa je počeo sa 11 igrača i Aussie Michael Guzzardi je držao masivan chip lead medju ostatkom polja.
Kako su short stackovi eliminisani i postavljen finalni sto, Guzzardi nije učinio ništa da pokaže da bi bilo šta sem pobede, pojačavajući vodstvo kako je igrač za igračem napuštao turnir.
U suštini, dok je Duong stigao do heads-up meča, Guzzardi je imao 4.5 miliona čipova naspram Duongovih 700,000 i sve je izgledalo kao prava konfuzija.
Nije mnogo trebalo da Guzzardi udje u all in preflopa sa
protiv Duongovih
i nakon sigurnog flopa njegovo krunisanje je bilo skoro gotovo. Medjutim,
pada na turnu što menja sve planove i Duong se duplira.
Nakon razmene potova neko vreme, Duong na riveru pogadja wheel i isplaćuje mu se ogroman raise na kraju da bi završio i pre nego što se najveća ruka turnira odigrala.
Na
flopu Duong check-raise-uje i Guzzardi gura all in. Duong pravi call za svoj turnirski život sa dva para i Guzzardi je imao flush draw. Draw se nije ostvario i odjednom je Duong imao chip lead, eliminišući Guzzardia sa vrha po prvi put od sredine Dana 2.
Doung je stavio nogu na gas nakon toga, i uprkos činjenici što se Guzzardi jednom duplirao, on je uskoro shove-ao svoj top par i gutshot na turnu u još dva para koje je držao Duong.
Kada je river stigao, titula i PHP 3,472,000, uključujući mesto za Asia Championship of Poker i Filipino poker slava je pripala Duongu.
Za kompletan pregled kako se odigrao finalni sto, proverite PokerNews Live Reporting blog.