2014 World Poker Tour Legends of Poker Dan 1c: Tyler Cornell Na Vrhu
Donnie Peters
PokerNews Staff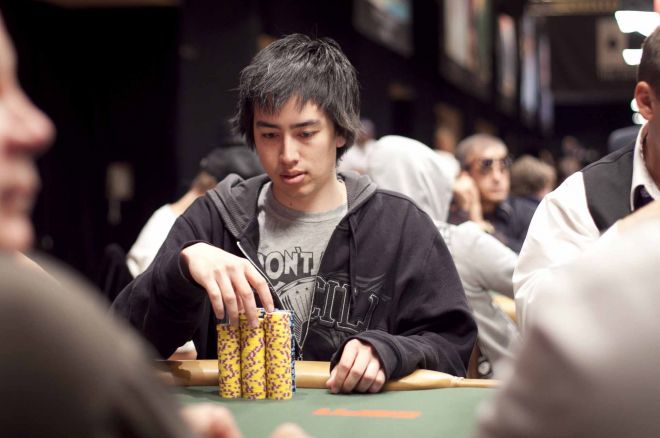 Dan 1c na World Poker Tour Legends of Poker u The Bicycle Kazinu, privukao je još 222 ulaza, dovodeći ukupno polje na 566. Na kraju finalnog početnog dana, Tyler Cornell predvodi polje sa 258,300 čipova.
Jedan od potova koji je pomogao Cornellu da spakuje vodeći chip stack je došao na poslednjem nivou dana — Level 10 sa blindovima na 500/1,000/100.
Prema WPT Live Updates timu, Cornell raise-uje sa CO pozicije do 1,900, i Abe Aboukhalil call-a sa button-a. Igrač sa small blinda call-a, a zatim igrač sa BB dodaje 6,100. Cornell, Aboukhalil, i igrač sa small blinda call-aju da bi videli flop
. Prvi igrač checkira, sledeći igrač betuje 12,300, a zatim Cornell call-a. Ostala dva igrača fold-aju. Na turnu dolazi
, prvi igrač ispaljuje 22,000 i Cornell pojačava za oko 70,000. Njegov protivnik odustaje, i Cornell odnosi pot i prelazi 200,000 u čipovima.
Jared Hamby je bio još jedan igrač koji je imao uspeha na Dan 1c, koji je spakovao 119,600. Nije bilo nimalo lako, kako je Hamby morao da napravi neke manevre kasnije tokom večeri da bi izbegao gubitak gomile čipova. U jednom potu, izveštavano je da je imao top par sa lošijim kickerom protiv još jednog top para drugog igrača, ali je na kraju minimalno izgubio u ruci.
Dok su Cornell i ostali imali prilično solidan dan za stolovima, igrači kao što Tony Dunst, Michael Rocco, Christina Lindley, i James Carroll su eliminisani. Richard Seymour iz NFL je takodje bio u akciji, ali nije uspeo da preživi dan uprkos dupliranju tokom šestog nivoa blindova preko Don Zewina.
Sa tri početna dana, ostalo je 223 preživelih, ali ostali još uvek imaju opciju da udju u igru na Dan 2 za cenu od $10,000. To će omogućiti igraču 72,000 čipova i još jednu šansu za WPT titulu.
Dan 2 je počeo u 1 p.m. po lokalnom vremenu u Utorak, i ovde na PokerNews-u možete konsultovati pregled dana.
*Zahvalnost za fotografiju pripada WPT.
Ostanite u toku sa dešavanjima u poker svetu - pratite nas na Twitter-u i lajkujte na Facebook-u.