Jason Helder Osvojio $1,000,000 za Pobedu na 2014 WinStar River Poker Series Main Eventu
Aaron Hendrix
PokerNews Staff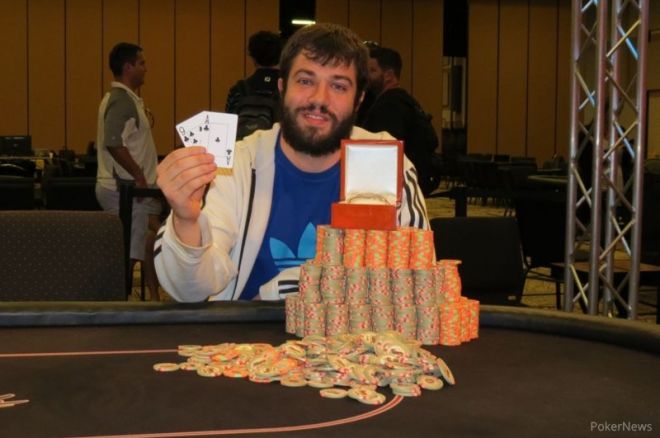 "Sloboda!"
To su bile prve reči Jason Heldera nakon što je finalna karta izašla da bi mu donela titulu na 2014 WinStar River Poker Series Main Eventu, eventu koji je privukao 1,323 učesnika koji su kreirali nagradni fond od $3,175,200. Helder, koji igra online pod nickom "teamwispy," je počeo jako za finalnim stolom i nije se okretao sve dok nije uhvatio $1,000,000 nagradu za prvo mesto.
"Ovo je moj najveći rezultat od pet, ikada" Helder je rekao za PokerNews pozirajući za fotografije sa svojom novo-osvojenom narukvicom. "Imajući poziciju nad Travis Riceom i Kevin Eysterom je bilo ogromno za mene. Nisam napravio ni jednu veliku grešku i načipovao sam se rano."
Kada smo ga upitali šta će uraditi sa MILION DOLARA, Helder se nasmejao i rekao, "Još uvek ne znam. Osvajanje je teži deo, trošenje je lakši."
Helder je otišao da igra PokerStars World Championship of Online Poker (kliknite na link za raspored), i to će učiniti sa konfornim bankrollom.
Rezultati Finalnog Stola
| Place | Player | Prize |
| --- | --- | --- |
| 1 | Jason Helder | $1,000,000 |
| 2 | Travis Rice | $340,403 |
| 3 | Kevin Eyster | $219,088 |
| 4 | Chris Drake | $134,096 |
| 5 | Khoa Nguyen | $110,663 |
| 6 | Jonathan Gaviao | $90,881 |
| 7 | Kong Li | $72,680 |
| 8 | Rodeen Talebi | $56,724 |
| 9 | Rhett Trusler | $42,891 |
Finalni dan igre je počeo sa 10 igrača još uvek u takmičenju za sedmocifreni dan isplate. Dobro poznati poker pro David "ODB" Baker je bio prvi eliminisani igrač kada je imao promašaj i natrčao sa
na
Khoa Nguyena. Helder je počeo svoj uspon kada je eliminisao Rhett Truslera na devetom mestu nakon što su njegove
nadigrale Truslerove
.
Helder i Nguyen, drugi čip lider za stolom, su se upleli u veliki pot koji je poslao Heldera na preko 10,000,000 čipova. Nguyen je flopnuo triling, ali nije uspeo da ulovi Heldera na flopu. Nguyen check-ira turn i daje Helderu šansu da sastavi Broadway straight na riveru. Nguyen nije mogao da pusti svoju veliku ruku da ide i Helder se više nije okretao od tog momenta.
Jonathan Gaviao nije uspevao nikako da učini stvari boljim i završio je na šestom mestu za $90,881 kada su njegove
izgubile od Riceovih
nakon izlaska outa.
Sa pet preživelih igrača, Chris Drake je uleteo sa najgorim i izašao na vrh u masivnom 3-way potu koji je video Nguyena eliminisanog na petom mestu za $110,663. Zatim, Helder je odmakao sa turnirom kada je eliminisao Drakea u ogromnom flipu sa svojim parom desetki da bi pobedio Drake-ove
.
Nije trebalo mnogo vremena da igra dodje do 3handed. World Series of Poker osvajač narukvice Eyster je pao od Rice-a kada su njegove
pale da pobede u trci protiv Rice-ovih jackova. Heads-up igra je trajala samo tri ruke sa finalnom u kojoj je Helder držao dominantnu ruku sa
protiv Riceovih
. Rice nije uspeo da se popravi protiv Heldera i morao je da se zadovolji sa drugim mestom i nagradom od $340,403.
Ostanite u toku sa dešavanjima u poker svetu - pratite nas na Twitter-u i lajkujte na Facebook-u.