Doroshev Heorhii osvojio Monster Event
Aleksandra Andrić
Nenad Budinčević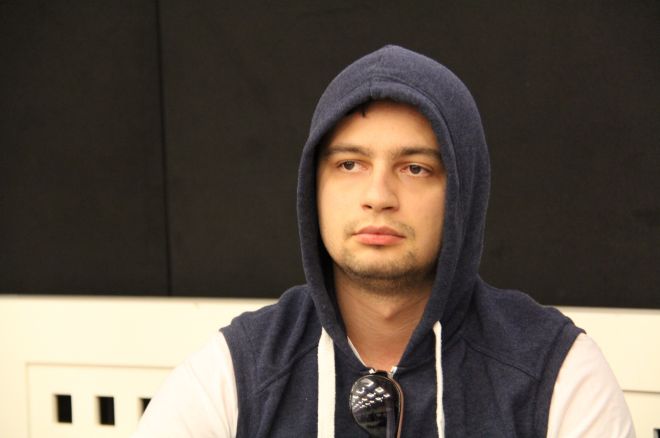 Drugi finalni sto za Doroshev Heorhiija i prva titula. On je pobedio u konkurenciji od 110 igrača, a za taj uspeh je dobio 9,600 evra. Na Russian Poker Tour Main Eventu, bio je runner-up, i to ga stavlja na sam vrh kada je u pitanju ovaj poker festival u hotelu Splendid u Bečićima.
Drugi je bio Shapoval Volodymir koji je nakon dogovora uzeo 9,400 evra. On je na RPT Main Eventu bio 15. Trećeplasirani je Daniele Scatragli. Njih trojica su se našli u 3-way all in situaciji koju je dobio Doroshev.
Naredna ruka je donela novi all in, izmedju njega i Shapovala...
Shapoval

Doroshev
Board
Doroshev Heorhii ima 25 godina, dolazi iz Ukrajine, a profesionalno igra poker prethodnih šest godina.
"Veoma sam srećan" - kaže on za PokerNews Balkan. "Nisam očekivao da ću se dva puta naći na finalnom stolu, kao ni da ću osvojiti Monster! Nažalost, neću igrati Live Events Int. Main Event jer idem na svadbu :) "
Andreja Klasović jedini Balkanac in the money
Jedini predstavnik pokeraša sa Balkana koji je ušao u lovu na Monster eventu je Andreja Klasović.
On je završio na 12. poziciji i za ovaj uspeh uzeo 1,140 evra. Kako nam je rekao, ovo je njegov osmi turnir od početka poker festivala u hotelu Splendid u Bečićima, koji je počeo 4. oktobra.
Dvanaest igrača je ušlo in the money, a on je u trenutku kada se odlučivao bubble boy, hrabro platio sa pozicije BB 280k all in sa
, dok je njegov protivnik okrenuo
.
Ipak, u poslednjoj ruci, u all in situaciji, Klasović je imao
, ail je naleteo na big slick
. Flop, turn i river nisu pomogli našem igraču!
Čestitke od ekipe PokerNews Balkan!
Osim njega, na Monster eventu zaigrali su igrači sa Balkana: Boro Rotim, Dragan i Vidak Banićević, Alen Bilić, Kiki, Dragan Mrvaljević, Nenad Mitrović...
Live Event Int. Main Event počinje u četvrtak
Jedan main event je za nama, a sledeći je na rasporedu u četvrtak, 9. oktobra. Tada kreće Live Main Event Dan 1A. Buy in je 1,100 evra dok je garantovano 150,000 evra za prvo mesto ukoliko na turniru zaigra odredjeni broj igrača. Početni stack je 30,000 dok će blinds rasti na svakih 45 minuta.
Očekujemo da se u fieldu pojavi mnogo igrača sa Balkana, a nema sumnje da ćemo videti i dosta Rusa i Ukrajinaca, kao što je to bio slučaj i do sada.
U četvrtak se igraju i dva satelita za Live Main Event koji počinju u podne, odnosno 18h. Tu je i Let's Fly Event - Combined Flight.