Karakchiev Ivan Čip Lider na RPT Main Eventu
Aleksandra Andrić
Nenad Budinčević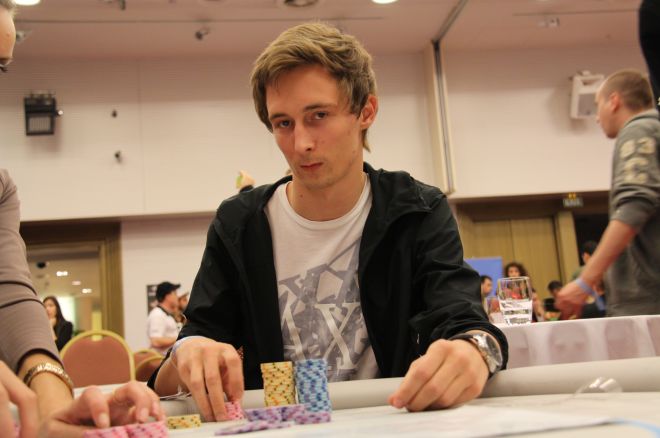 Russian Poker Tour Main Event ušao je u završnu fazu. Dan 2 je završen, a u polju je ostalo još 26 igrača. Prvobitno je bilo planirano da taj broj bude 27, odnosno tri stola, medjutim dvojica igrača su napustili turnir u isto vreme. Broj pokeraša koji su ušli u lovu je 45.
Na kraju Dana 2 čip lider je Karakchiev Ivan sa 1,194,000 čipova.
Od igrača sa Balkana, najviše čipova ima Vlado Banićević (614k), dok samo 13 hiljada čipova manje ispred sebe ima Draško Bošković sa 601k. Tu je i Nedim Jusupović sa 347k, zatim Igor Jelčić 341k, Jovo Lagator 132k, kao i Marinko Škorić 391k, i Goran Krivokapić 32k
Finalni dan RPT Main Event na programu je u utorak od 13 sati.
U Hotelu Splendid u Bečićima, dan 2 je započelo 187 igrača, ali su kasne registracije bile omogućene sve do kraja levela 12, odnosno drugog levela danas. Nakon registracija, najveći broj igrača u polju bio je 200.
U trenutku kada je ostalo 46 igrača, igralo se hand by hand kako bismo sačekali bubble boy-a. To je bio Alen Bilić, koji je igrao all in preflop sa 9-9, a platio je Draško Bošković sa A-K i dočekao kralja na turnu.
Akcije nije nedostajalo tokom celog dana, a pogotovo kako su blinds skakali, a igrači se odlučivali za all in sve češće.
Objavljen je i spisak isplata:
1. 63,120 evra
2. 38,710
3. 26,070
4. 19,162
5. 14,750
6. 11,410
7. 8,140
8. 6,050
9. 4,610
10. 3,560
11-12. 2,780
13-15. 2,115
16-18. 1,670
19-27. 1,410
28-36. 1,245
37-45. 1,115
Live Reporting sekcija sajta PokerNews Balkan je mesto gde možete uvek saznati koliko čipova ima odredjeni igrač. Isto tako, ako niste pratili akciju do sada, to možete uraditi OVDE.
Osim finalnog dana RPT Main Eventa, na rasporedu su i Super Knockout 6-Max 300+300 na kojem je garantovano 30,000 evra. Tu je i Omaha 8-Max Challenge sa garantovanim fondom od 10k evra, kao i Let's Fly Event - Flight 4 gde je garantovano 50,000 evra.
Ostanite u toku sa dešavanjima u poker svetu - pratite nas na Twitter-u i lajkujte na Facebook-u.