Mike Leah Osvojio Prvu Zlatnu Narukvicu na WSOP Asia-Pacific High Roller eventu za $600,000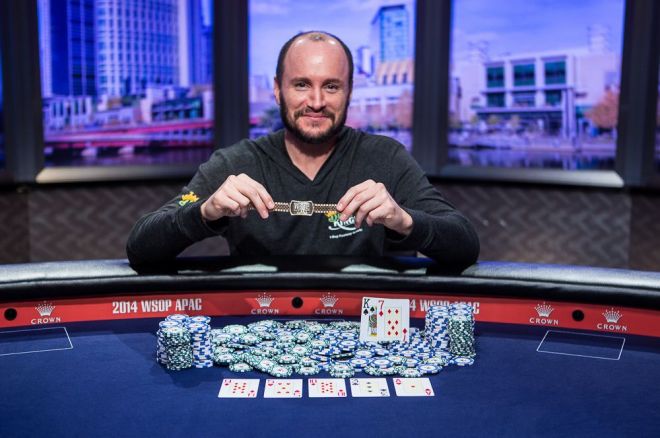 Samo jedan event je bio na rasporedu pretposlenjeg dana 2014 World Series of Poker Asia-Pacific festivala, a to je bio AU$25,000 High Roller. Dan 3 započela su šestorica igrača, a oni su se borili za zlatnu narukvicu i AU$600,000.
Kada se prašina slegla, Mike Leah je bio jedini preostali igrač. Ovaj 40-godišnjak iz Kanade došao je u treći dan sa ogromnim vodjstvom u čipovima, a odšetao je sa svojom prvom WSOP zlatnom narukvicom.
AU$25,000 High Roller Isplate
| POzicija | Igrač | Država | Nagrada (AU) |
| --- | --- | --- | --- |
| 1 | Mike Leah | Canada | $600,000 |
| 2 | David Yan | New Zealand | $360,025 |
| 3 | Jesse Sylvia | USA | $216,811 |
| 4 | Jonathan Duhamel | Canada | $145,003 |
| 5 | Sam Khouiss | Australia | $110,078 |
| 6 | Brian Roberts | USA | $85,027 |
| 7 | Sam Higgs | Australia | $65,035 |
| 8 | Andrew Hinrichsen | Australia | $50,021 |
Leah je nekoliko puta bio blizu da uzme zlato, ali do sada nije imao uspeha. Pre ove pobede, bio je treći, peti i dva puta sedmi na WSOP eventima.
Leah je započeo Dan 3 u veoma dobrom položaju, ali je konkurencija bila izuzetno jaka jer su tu bili i Brian Roberts, Sam Khouiss, Jonathan Duhamel, Jesse Sylvia, i David Yan.
Roberts je prvi ispao na šestom mestu, a zatim Khouiss i Duhamel i to u istoj ruci od strane Sylvie. Uprkos duplom nokautu, Sylvia je bio sledeći koji je napustio turnir na trećem mestu i usledio je heads up duel izmedju Leaha i Yana. Ovo je bio prvi put da Leah igra heads up na bilo kojem WSOP eventu i nije želeo da propusti priliku da osvoji zlato.
Leah je od starta pritiskao protivnika, a Yan je pao na ispod 700k u čipovima, od ukupno 5.1M. Yan je uspeo da se duplira i vrati na 7-cifren broj čipova, ali Leah nije posustao i ubrzo je ponovo držao konce. Leah je ponovo vratio Yana na ispod 700,000 pre završne ruke u kojoj je Leah sa
uspeo da savlada Yana koji je držao
.
Za ovu pobedu, Leah je osvojio WSOP zlatnu narukvicu i AU$600,000. Ovo je njegov drugi najveći uspeh kada su u pitanju turniri uživo, a u avgustu je bio runner up Danielu Colmanu za $1,047,638. Sve ukupno, Leah sada ima više od dva miliona dolara u isplatama ove godine, što je njegova najbolja godina ikada.
Ostanite u toku sa dešavanjima u poker svetu - pratite nas na Twitter-u i lajkujte na Facebook-u.