TonyBet Poker Najavljuje Prvi Ikada Open-Face Chinese Poker Live World Championship!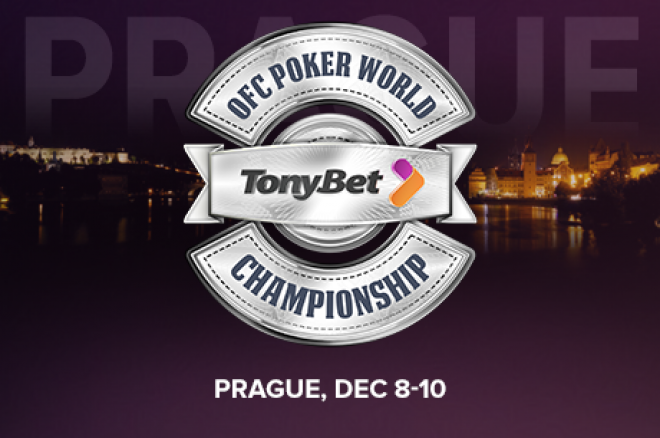 U organizaciji TonyBet Poker, svetskog najvećeg online open-face Chinese (OFC) poker sajta, prvi ikada OFC Poker Live World Championship će se odigrati u Pragu, Češkoj Republici, izmedju 8.-10. Decembra, 2014.
Šampionat se sastoji iz dvodnevnog €1,000 Main Eventa, "last minute" satelitima za Main Event kao garancija, i obećavajući $10,000 buy-in High Roller reentry event koji je po rasporedu 8. Dec.
"Odlučili smo se da održimo ambiciozni €10K High Roller event prema zahtevu naših top regulara, i očekujemo da će ovaj turnir privući dosta velikih imena u poker zajednici," predstavnik sa TonyBet Pokera je izjavio za PokerNews. "Trebalo bi to da postane pista za open-face Chinese poker u oba smera, i prema kvalitetu igrača i kvalitetu same igre."
Evo kompletnog pregleda rasporeda za TonyBet Poker OFC Poker Live World Championship:
| Datum | Event | Buy-in |
| --- | --- | --- |
| Dec. 8 | High Roller Event, OFC Pineapple (Reentry) | €10,000 |
| Dec. 8 | Last-Minute Satellite to Main Event | €120 |
| Dec. 9 | Main Event Day 1, OFC Pineapple (Reentry) | €1,000 |
| Dec. 10 | Main Event final day | -- |
Event će se odigrati u King's Casinu u renomiranom hotelu Praga Corinthia Hotel, i TonyBet Poker live World Championship je postavljen da postane kutak u budućnosti za OFC live evente a u isto vreme uzbudljiv način da se proslavi godinu dana od početka rada sobe.
Pokrenut od strane litvanskog vulkanskog preduzetnika i trenutnog člana evropskog parlamenta Tony G-a, kao "poklon poker zajednici", sajt je brzo postao popularna stanica za veliki broj OFC poker ljubitelja.
"Šampionat će proslaviti neverovatnu godinu koju smo imali na TonyBet Pokeru, i mi ćemo osigurati da tu bude gomila akcije za naše igrače," dodao je predstavnik.
Kao dodatak na tri eventa uključenih u zvanični raspored za šampionat, dvodnevni OFC poker će takodje ponuditi "gomilu OFC cash game-a, kao i razne poklone i lepa iznenadjenja za igrače koji budu učestvovali."
A prisustvo ne bi trebalo biti problem, kako će se World Championship odigrati u toku PokerStars Prague Poker Festivala i samo par dana pre World Poker Tour National što će doprneti da se češki glavni grad pretvori u centar poker sveta još jednom u Decembru.
"Open-face Chinese poker je zabavna i uzbudljiva igra i raste neverovatno brzo, objasnio je predstavnik sajta. "Zato što smo najveći globalni OFC poker sajt, odlučili smo da proširimo mogućnosti i ponudimo neko live poker iskustvo. A sa celom poker zajednicom koja dolazi u Prag u decembru, nema boljeg vremena za održavanje. Organizovali smo se za najveći OFC event u istoriji."
Kvalifikacije za Main Event šampionata se igraju svaki dan na TonyBet Pokeru i nude svakom šansu da učestvuje na eventu za samo delić buy-ina."
Ako već nemate otvoren račun na TonyBet Pokeru, napravite detaljan pregled poker sobe i uverite se da skinete softver sa PokerNewsa, jer će vas to nagraditi sa plus 100% bonusa u visini depozita do €500 i imaćete pristup velikom broju PokerNews-ekskluzivnih promocija tokom godine.
Ako već imate račun, onda jednostavno otvorite TonyBet poker klijent i uživajte u igri na nekom od dostupnih satelita.
Ostanite u toku sa dešavanjima u poker svetu - pratite nas na Twitter-u i lajkujte na Facebook-u.