Jason Mercier Osvojio World Poker Tour Alpha8 St. Kitts za Nagradu od $727,500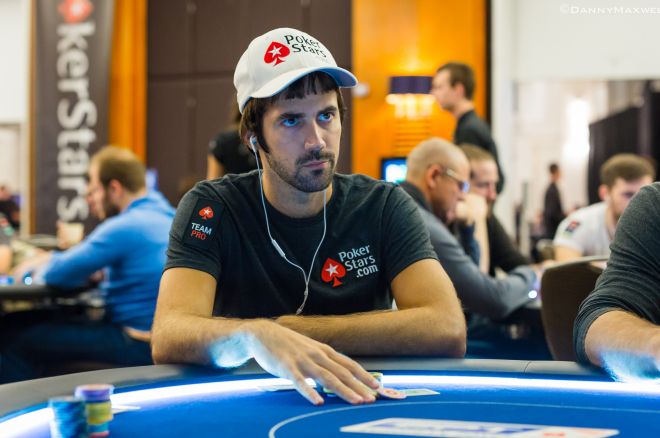 World Poker Tour Alpha8 su otputovali za St. Kitts ove nedelje za njihov najnoviji $100,000 buy-in poker event. Nakon što je event privukao 15 učesnika koji su generisali nagradni fond od $1,455,000, titula je otišla Team PokerStars Prou i dvostrukom World Series of Poker osvajaču zlatne narukvice Jason Mercieru.
Za pobedu, Mercier je zaradio $727,500 i svoj prvi WPT Alpha8 trofej.
WPT Alpha8 St. Kitts Isplata
| Mesto | Igrač | Nagrada |
| --- | --- | --- |
| 1 | Jason Mercier | $727,500 |
| 2 | Kathy Lehne | $436,500 |
| 3 | Tony Guglietti | $291,000 |
Devet igrača se vratilo u akciju na Dan 2 na dvodnevnom eventu, i Olivier Busquet je bio chip leader. Samo top tri mesta su postavljena tako da ostvaruju rezultat u kešu, što je značilo da će šest igrača kući otići praznih ruku.
Prvi koji je eliminisan je bio Daniel Colman, koji nije uspeo da doda još jedan veliki iznos svojoj masivno impresivnoj 2014 godini koja ga je videla kako se penje na profit od čak $22,389,481. Nakon te eliminacije, Talal Shakerchi je pao na osmom mestu, a ispratio ga je Alec Torelli na sedmom. U tom trenutku je Busquet još držao chip lead sa dobrom razlikom izmedju Merciera na drugom mestu.
Busquet je zatim eliminisao Bill Perkinsa na šestom mestu sa
protiv
, ali je pretrpeo udarac kada se Kathy Lehne duplirala preko njega u Ruci #40 finalnog stola. Prema WPT live izveštaju,
flop je pogodio oba igrača. Busquet je flopnuo nuts sa
, Lehne dva para sa
. Nakon što je lova otišla na sredunu na flopu, Lehne pogadja full house na turnu kada je
uparila board da bi je duplirala.
Busquet je uspeo da održi chip lead uprkos ovom gubitku, ali su odatle stvari krenule nizbrdo.
U ruci #58, Busquet gubi chip lead nakon što je Tony Guglietti prešao u vodeću poziciju. Onda, u Ruci #65, Antonio Esfandiari ije eliminisan na petom od strane Lehne što je nju postavilo u vodjstvo, gurajući Busqueta nazad na treće, i u suštini se izjednačava sa Mercierom. Konačno u ruci #77 je sve bilo postavljeno za online sit-and-go specijaliste.
Kada je pao na samo nešto preko 100,000 u čipovima, Busquet otvara do 12,000 sa buttona sa blindovima 3,000/6,000/1,000 na Levelu 13. Mercier je gurnuo all in sa big blinda, i Busquet call-a da bi se stavio u rizik od 104,000 ukupno. On je držao
i bio je u prednosti nad Mercierovim
. Flop
Mercieru daje prednost sa parom dama, a onda
na turnu ostavlja Busqueta u potrebi za kecom na riveru da bi ostao živ. Nije uspeo da ga dočeka kako je
sišla na riveru, i to je poslalo preostala tri igrača u plaćene pozicije.
3Handed igra je počela tako što je Lehne imala vodstvo u čipovima ispred svoja dva protivnika, Mercier i Guglietti. Ona je imala 826,000 u čipovima dok je Mercier držao 348,000 i Guglietti 326,000. U sledećih 40 ruka, Mercier se približio Lehne dok je Guglietti bio u sve lošijoj poziciji. Konačno, u Ruci #117, došao je kraj turnira za Gugliettia.
Guglietti je bio all-in na
boardu sa
protiv
za Merciera. River je kompletirao board sa
, i to je poslalo Gugliettia napolje na trećem mestu za dan isplate od $291,000. Ova ruka je takodje dala Mercieru chip lead, i on je odneo 825,000 čipova u heads-up meč protiv Lehne koja je imala 675,000.
Odatle, Mercier je stvarno vršio pritisak i koristio je svoje heads-up iskustvo da bi završio posao. Pri ulasku u meč, Mercier je bio 14-5 u live poker turnirima ulazaka u heads-up meč i 23-9 ako kombinujemo live i online poker evente. On je brzo pojačao svoj stack na preko 1 milion pre nego što je dovršio stvari u ruci #151.
U finalnoj ruci, Lehne raise-uje do 30,000 sa buttona sa blindovima na 5,000/10,000/1,000. Mercier reraise-uje do 80,000, i Lehne call-a da bi video flop
. Mercier check-ira, Lehne betuje 75,000, i Mercier call-a. Turn dolazi
, i oba igrača checkiraju da bi videli
na riveru. Mercier betuje 165,000, i Lehne raise-uje all in za 430,000. Nakon kraćeg razmišljanja, Mercier call-a sa
. Lehne je imala slabija dva para sa
, i sa tim je ona eliminisana na drugom mestu.
Za njen finiš, Lehne je zaradila $436,500 i pomerila se na preko $500,000 ukupne zarade u karijeri — dovoljno dobro da se katapultira na 46. mesto po zaradi na listi žena u pokeru. Mercier, sa druge strane kupi $727,500 nagradu za prvo mesto i pomera se na 11. na mesto na listi, prestižući Scott Seivera. Mercier se takodje pomerio na 13. mesto na listi zarade u 2014 sa preko $3.67 miliona ove godine.
*Detalji preuzeti sa World Poker Tour.