Mikal Blomlie Osvojio TonyBet Open-Face Chinese Poker World Championship u Pragu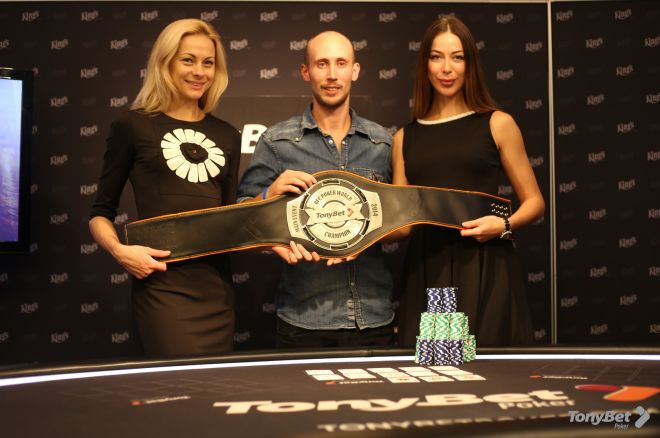 Open-face Chinese (OFC) poker zajednica ima svog svetskog šampiona, sada kada je Norvežanin Mikal Blomlie kući poneo titulu prvog ikada Open-Face Chinese Poker Svetskog Šampionata.
Da bi osvojio event organizovan u Pragu, Češkoj Republici, od strane TonyBet Pokera, Blomlie je morao da preživi polje od 102 učesnika koji su uzeli učešće na dvodnevnom €1,000 buy-in Main Eventu. Zajedno sa titulom i velikim slavnim OFC pojasom šampiona, poker pro iz Makaua je otišao kući sa glavnom nagradom od €35,000.
Blomlie, koji je bio 2012 World Championship of Online Poker Player of the Year i pobednik $770 buy-in World Poker Tour OFC poker pineapple eventa odr\anom u Paranque Sitiju na Filipinima, u Oktobru 2014., je osigurao titulu na kraju heads-up meča protiv nemačkog Jan Hendrik Tapkena. Tapken je osigurao drugu poziciju za nagradu od €21,000.
"Uvek je dobro osvojiti turnir, a dobro sam se zabavio", Blomlie je izjavio odmah nakon pobede. "Ja uživam igrajući open-face Chinese, i nalazim to zabavnom i relaksirajućom igrom."
Evo pregleda top 10 pozicija na eventu:
| Place | Player | Prize |
| --- | --- | --- |
| 1 | Mikal Blomlie | €35,000 |
| 2 | Jan Hendrik Tapken | €21,000 |
| 3 | Gary Stone | €12,750 |
| 4 | Oleg Udovenko | €9,430 |
| 5 | Maxim Panyak | €7,370 |
| 6 | Nikita Nikolaev | €5,800 |
| 7 | Alexander Lakhov | €4,750 |
| 8 | Jurgen Hellen | €3,830 |
| 9 | Andrii Nodieliaev | €3,060 |
| 10 | Mikalai Davidovich | €2,660 |
Sve u svemu, rekordni Open-Face Chinese Poker World Championship u organizaciji TonyBet Pokera u King's Casinu u Pragu je privukao veliko polje koje je uključivalo veliki broj internacionalnih proova.
Geografski govoreći, event je dominiran od strane Rusa, kako je 17 ruskih igrača bilo u akciji za stolovima. Odmah posle njih, nemačke trupe su napale Main Event sa ukupno 12 igrača, dok su i Česi bili blizu sa 11 učesnika.
Medju najpoznatijim imenima su bli Konstantin Puchkov, Alex Bilokur, i Alexander Kostritsyn.
Event je takodje video učešće taletnovanih majstora šaha i PokerStars sportskog ambasadora Jennifer Sahade, koja je osvojila €10,000 Open-Face Chinese Poker World Championship High Roller 9. Dec. za nagradu od €100,000.
"Pobeda je bila odličan način za početak mog putovanja u Pragu," izjavila je Shahade za PokerNews. "Nisam bila ni sigurna da ću igrati sve do pred sam event. Ali nekako, sat vremena kasnije sam sedela za stolom i igrala 13 sati pravo na najvećem buy-in eventu koji sam ikada igrala i najveći keš koji sam ikada imala."
Shahade je nastavila, "Par puta sam skoro bila eliminisana, i nisam bila baš zadovoljna sa svojom igrom na početku, ali sam onda zategla igru, i počela da igram bolje. Igrala sam regularni open-face Chinese poker na live turnirima pre, ali nikada pineapple. Bilo je zabavno. Mislim da je bilo odlično i da će biti više turnira kao što je ovaj. "
Shahade se takodje pridružila najnovijoj epizodi PokerNews Podcasta, i možete je slušati, zajedno sa Jason Mercierom i Mukul Pahuja, u Epizodi #263 ispod:
*Zahvalnost za fotografiju TonyBet Poker Blog
Isprobajte i vi Jedini Globalni Open-Face Chinese Poker Sajt -TonyBet POKER!