2015 PokerStars EPT Grand Final Main Event Dan 1a: Jose Carlos Garcia Predvodi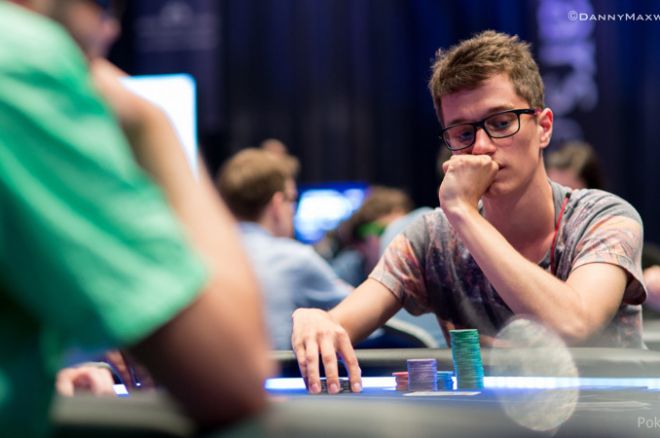 Subota je bila popunjena sa odličnom poker akcijom na 2015 PokerStars and Monte-Carlo® Casino European Poker Tour Grand Finalu, gde je odigran €100,000 Super High Roller koji se igrao do pobednika, i početak glavnog dogadjaja €10,600 Main Eventa.
Dan 1a privukao je 218 igrača, što je malo više nego prošle godine gde ih je bilo 214. Posle osam leval igre, kao čip lider završio je igrač iz Poljske Juan Carlos Garcia sa stackom od 182,800.
Ostali igrači koji su prešli u Dan 2 sa dobrim stackom su: Joao Simao (179,100), Nicolas Chouity (168,200), Steven Zhou (158,000), and Roger Hairabedian (153,800).
Top 10 Dana 1a
| Pozicija | Igrač | Stack |
| --- | --- | --- |
| 1 | Jose Carlos Garcia | 182,800 |
| 2 | Joao Simao | 179,100 |
| 3 | Nicolas Chouity | 168,200 |
| 4 | Steven Zhou | 158,000 |
| 5 | Roger Hairabedian | 153,800 |
| 6 | Charlie Carrel | 153,400 |
| 7 | Mustapha Kanit | 138,800 |
| 8 | Andras Nemeth | 132,300 |
| 9 | Ole Schemion | 210,600 |
| 10 | Andre Akkari | 114,900 |
Garcia je uspeo da napravi veći deo svog stacka u poslednjem levelu dana. Akcija se odigrala kada je Garcia bet-ovao otprilike oko pola pota na flopu
. Atanas Malinov call-uje, na turnu silazi
. Garcia check-ira, Malinov bet-uje 24,000 a Garcia obajvljuje svoj all in od 120,000. Malinovu to pretstavlja veliki problem i on posle jako dugog razmišljanja dobija time od drugih igrača za stolom. Njegovo dodatno vreme je komplentno isteklo i Malinov je automatski fold-ovan.
"Pokaži jednu, biće na vestima", Charlie Carrel govori Garcii. Mladi igrač iz Poljske se nasmejao i pokazao
. Sa tom rukom Garcia preuzima mesto čip lidera.
Mnogo pre toga, sa turnira je eliminisan Dan Smith, koji je u sezoni 8 uspeo da osvoji čak tri €5,000 side event-a. On je znatno oštetio svoj stack u prvoj ruci koju je odigrao, kada je na top full hous uleteo sa ručnim damama. Smith nedugo zatim završava turnir, i on je prvi eliminisani igrač na EPT11 Grand Final Main Event-u.
Prošlogodišnji €100,000 Super High Roller šampion i osvajač Big One for One Drop Daniel Colman takodje je eliminisan u ranoj fazi turnira kada je sa ručnim parom kraljeva call-ovao all in Argentinca Ivana Luca koji je imao ručni par kečeva, dok je branioc titule šampiona italijan Antonio Buonanno eliminisan na Levelu 3 (100/200).
Eliminacija se odigrala na flopu
kada je Buonanno, koji je bio na poziciji small blind, bet-ovao 600, Zhou raise do 1,700. Buonanno call,
se otvara na turnu, Buonanno check, Zhou bet 2,725, Bounanno call. River
, Buonanno check, Zhou bet-uje toliko da stavlja Buonanno na test. Posle veoma dugog razmišljanja Buonanno dobija time od igrača i donosi odluku i call-uje. Zhou okreće
za sklopljen full house na riveru, a Buonanno okreće
i napušta turnir.
Ostali igrači koji nisu preživeli Dan 1a su: Max Silver, Dani Stern, Anatoly FIlatov, Tobias Reinkemeier, Bryn Kenney, Justin Bonomo, Scott Seiver, Patrik Antonius i Team PokerStars Pro George Danzer. Trenutni igrač godine World Series of Poker, eliminisan je tačno pre pauze za večeru kada je na flopu
objavio svoj all in sa
. Na njegovu nesreću igrač iz Velike Britanije Victor Ilyukhin u ruci je imao
sa kojom donosi odluku da call-uje, već na turnu mu silazi
za boju sa kojom eliminiše Danzera.
Od poznatih igrača koji odlaze u Dan 2 su: Ole Schemion (121,600), Steve O'Dwyer (109,000), Ivan Soshnikov (64,700), Dan Heimiller (53,200), Mike "Timex" McDonald (49,500), Martin Jacobson (42,000), and Team PokerStars Pros Andre Akkari (114,900), Eugene Katchalov (95,600), Jason Mercier (74,900) and Isaac Haxton (33,200).
U nedelju počinje Dan 1b gde se očekuje mnogo veći broj igrača nego na početnom Danu 1a. Late registration je otvoren sve do starta Dana 2 tako da se očekuje veliki broj igrača koji će uzeti učešće na ovom prestižnom turniru.
U sutrašnjem Danu 1b planirano je takodje da se igra ukupno osam blind levela od po 75 minuta. PokerNews Live Reporting Team biće tu da Vam prenese sve do detalja. Pratite celokupnu akciju sa turnira u live blogu OVDE.
Dok čekate, pogledajte ovaj video gde Akkari govori o svom Shark Cage iskustvu:
Ostanite u toku sa dešavanjima u poker svetu - pratite nas na Twitter-u i Facebook-u.