2015 PokerStars EPT Grand Final Main Event Dan 3: Jose Carlos Garcia Predvodi Finalnih 34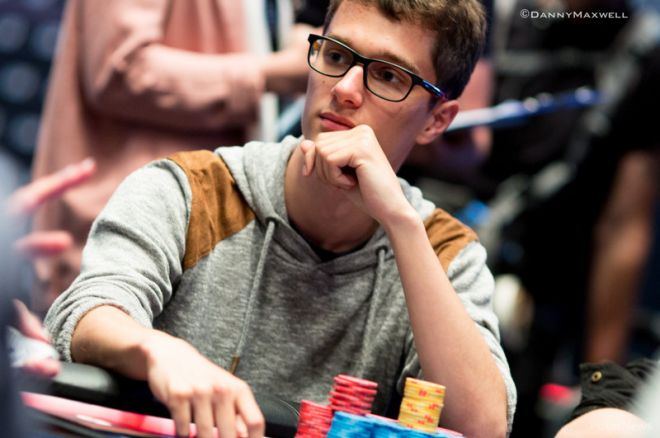 Dan 3 2015 PokerStars and Monte-Carlo® Casino EPT Grand Final €10,600 Main Eventa počeo je sa 114 igrača, od ukupno 564 koliko je uzelo učešće na turniru. Nakon odigranih pet blind levela od po 90 minuta, ostali smo na 34 igrača koji će danas od 12h u Danu 3 nastaviti borbu za titulu i prvu nagradu od €1,082,000.
Jose Carlos Garcia, koji je bio chip leader celokupnog Dana 1, je i dalje najbolje pozicioniran sa stackom od 1.71 million, ali suočiće se sa veoma jakom konkurencijom kao što su: Connor Drinan (1.065 million); dvostruki šampion World Poker Tour-a Scott Clements (909,000); zatim Global Poker Index Igrač Godine Ole Schemion (823,000).
Garcia nije samo igrao dobro, on je imao veoma dobar ran i kupio je velike potove sa jakim rukama. Na primer, na Levelu 18 (3,000/6,000/1,000) u potu se našlo 409,000 čipova kada je na flopu
Bugarin Nikolay Tsanev gurnuo svojih preostalih 217,000 a Garcia ga ispratio.
Tsanev:

Garcia:
Veoma loš flop za Tsaneva, na turnu silazi
a river donosi blank kartu
i Tsanev napušta turnir na 58. mestu za nagradu od €20,900. Garcia odigrava ruku sa kojom odlazi na ogroman chip lead a koja je ujedno bila i poslednja ruka dana.
Dan 3 Top 10 Chip Counts
| Mesto | Igrač | Count |
| --- | --- | --- |
| 1 | Jose Carlos Garcia | 1,710,000 |
| 2 | Connor Drinan | 1,065,000 |
| 3 | Anatoly Chen | 987,000 |
| 4 | Scott Clements | 909,000 |
| 5 | Hady El Asmar | 890,000 |
| 6 | Dario Sammartino | 827,000 |
| 7 | Ole Schemion | 823,000 |
| 8 | Johnny Lodden | 728,000 |
| 9 | Andre Akkari | 574,000 |
| 10 | Anton Astapau | 561,000 |
Svi učesnici su otpočeli Dan 3 sa namerom da uđu u top 79. odnosno u isplatu, ali 35 preostalih igrača sada imaju veće ciljeve pošto su već duboko ušli u isplate. Među onima koji su već na početku dana napustili turnir praznih ruku bili su Dan Heimiller, Randal Flowers, Mayu Roca, Charlie Carrel, Nick Petrangelo, Bryan Paris, Giuliano Bendinelli, Scott Davies, Vanessa Selbst, Ami Barer, David Peters i Eric Sfez koji je na žalost po njega zauzeo najgore mesto bubble boya.
To se desilo na Blind Levelu 17 (2,500/5,000/5000) kada je Sfez, koji je bio na samo tri big blinda, gurnuo all in pre flopa i dobio call od Tim PokerStars Pro igrača Jason Merciera.
Sfez:

Mercier:
Flop
otvara Mercieru veliku šansu i dodatne out-e,
na turnu donosi mu ogromnu prednost, a river
potvrdjuje eliminaciju Sfeza kao bubble boy-a, koji nije uspeo da se domogne prve isplate koja je iznosila €19,175.
Od tog momenta, počele su brze eliminacije među kojima su i velika imena, kao što je i zvanični šampion i branioc titule EPT Grand Finala Nicolas Chouity (78th - €19,175) zatim Steve O'Dwyer (74th - €19,175); Lasse Frost, (72nd - €19,175); Amerikanci Maria Ho (69th - €20,900) i Jason Wheeler (63rd - €20,900); Team PokerStars Pro Eugene Katchalov (64th - €20,900); i Jean Montury (43rd - €23,125), koji je osvojio EPT Malta prošlog meseca za nagradu od €687,400.
Montury je imao šansu da postane prvi uzastopni EPT šampion, ali sve je palo u vodu kada je na poslednjem levelu večeri Montury objavio svoj all in od 79,000 sa UTG pozicije i dobio call od Muhyedine Fares, koji je imao 81,000 čipova, svi ostali su se foldovali i okreću karte.
Montury:

Fares:
Monturyi ima najbolju šansu ako uhavti
da preživi! Board
mu nije doneo ni jedan od potrebnih out-a i on je eliminisan sa turnira.
Govoreći o EPT Malta, igrač koji je u veoma dobrom naletu, Poljak Dzmitry Urbanovich, eliminisan je nedugo posle na 40. mestu pošto je njegov protivnik uspeo na riveru da pogodi drugi jači par, i to je bila nesretna eliminacija za Urbanovicha.
Iako je mnogo njih eliminasano sa turnira, dosta velikih imena obezbedilo je učešće u Dan 4 uključujići i Tim PokerStars Pro-ove Johnny Loddena (728,000), Andre Akkaria (574,000), Merciera (539,000) i Isaac Haxton (112,000); EPT regulara Tom Halla (539,000); Nemačkog wunderkinda Christopher Franka (435,000); Britanskog profesionalcaStephen Chidwicka (383,000); zvaničnog World Series of Poker Europe šampiona Adrian Mateosa (376,000); €50,000 Super High Roller šampiona Mustapha Kanita (213,000); i online zvezdu Liviu "0Human0" Ignat (211,000)
Dan 4 će startovati danas (sreda) od 12h po lokalnom vremenu, i planirano je da se igra do finalnih 16 igrača ili do kraja Levela 24. Istog dana startuje i €25,000 High Roller turnir koji počinje u 12:30 po lokalnom vremenu a PokerNews će biti tu da isprati uživo oba turnira.
Do tada, pogledajte ovaj video sa Jeremy Ausmusom koji govori o Americi protiv Evrope:
Ostanite u toku sa dešavanjima u poker svetu - pratite nas na Twitter-u i Facebook-u.