Giacomo Fundaro Predvodi u Danu 2 WPT Amsterdam Main Eventa
Remko Rinkema
PokerNews Staff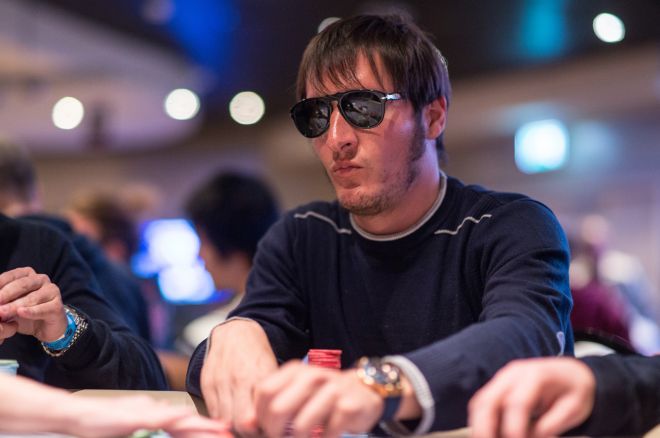 Drugi startni dan prvog ikada World Poker Tour eventa u Amsterdamu bio je veoma uspešan i okupio je ukupno 194 ulaza, od kojih su 26 bili reentry-ji. Tako da je sve ukupno turnir okupio (Dan 1a i 1b) 324 ulaza, a moguće da će se taj broj još povećati jer su kasna registracija i reentry su dozvoljeni sve do početka Dana2.
Na kraju Dana 1b, član WPT Champions Club-a Giacomo Fundaro obezbedio je poziciju chip leadera sa velikim stack-om od 234,000 chip-ova. O Fundarovoj dominantnoj poziciji najbolje govori podatak da Dennis Lavrijsen koji je na drugom mestu ima stack od 150,400 chip-ova.
Dan 2 će startovati sa 153 igrača, a taj broj će se uvećati ukoliko se neko odluči za reentry ili kasnu registraciju koji su dozvoljeni do početka dana.
Sorel Mizzi je bio u polju već na samom startu Dana 1b. On je ovde došao nakon osvajanja najvećeg online turnira u svojoj karijeri SCOOP 03-H: $2,100 NLHE eventa na PokerStarsu za skoro $355,000. PokerNews-ov reporter Frank Op de Woerd, tokom pauze, razgovarao je sa Mizzi-jem i u snimku ispod pogledajte šta je on imao da kaže:
download the mp3 file (15:12/14,6mb)
Mizzi je takođe imao prilično uspešan start na turniru i u Dan 2 ulazi sa stack-om od 141,200 chip-ova.
Lokalni heroj Joep van den Bijgaart nakon dva neupešna pokušaja u Danu 1a, odlučio se da sreću okuša u drugom startnom danu. Četvrti ulazak se za njega pokazao kao donekle najuspešniji ako uzmemo u obzir činjenicu da Dan 2 otpočinje sa 50,100 chip-ova.
Holanđanin, osvajač World Series of Poker narukvice Marcel Vonk preživeo je Dan 1b sa 41,500.
David Boyaciyan i Clyde Tjauw Foe nakon reenty-ja u Danu 1b uspeli su da prođu u Dan 2. Boyaciyan je ceo dan sedeo pored Fatime Moreira de Melo i oni su svojim pošalicama doprinosili pozitivnoj atmosferi. Moreira de Melo imala je poprilično miran dan, a jedan double up obezbedio joj je učešće u Danu 2 koji će otpočeti sa 67,900 chip-ova.
Fatima Moreira de Melo, trostruka olimpijska šampionka, pojavila se u ovonedeljnom Remko Reportu, a ceo razgovor možete poslušati u snimku koji sledi . U ovoj epizodi, Moreira de Melo govori o svojoj olimpijskoj karijeri, njenom razvojnom putu u pokeru i svom privatnom životu. Osim toga, ona nam je takođe dala jedinstveni uvid u njenu pobedu na holandskom rijalitiju Survivor-u Expeditie Robinson.
Član WPT Champions Club-a i trostruki osvajač WSOP narukvice Michael "The Grinder" Mizrachi i pored ponovnog ulaska nije uspeo da ostane u igri. Mizrachi nije imao sreće u ruci u kojoj je sa kec-osam izgubio protiv Jolmer Meelis-era koji je imao kec-kraj. Dominik Nitsche, još jedan od članova WPT Champions Club-a, preživeo je sa 13,600 chip-ova.
Tokom dana su eliminisani Dan Heimiller, Yann Dion, Louis Salter i Micha Hoedemaker. Holanđaninn Pim van Riet obezbedio je veliki stack od 110,900, a tu je i Belgijanac Guy Goossens sa 115,000.
Bivši European Poker Tour šampion Pieter de Korver (81,000), Steve O'Dwyer (72,900), Salvatore Bonavena (48,000), Kent Lundmark (43,000) i Jean Montury (35,300) ostali su u igri i od njih se svakako očekuje dosta zanimljivih akcija u Danu 2.
Igra se nastavlja danas (sreda) u 14h po lokalnom vremenu, a PokerNews.com će biti tamo i ispratiti sve akcije. Leveli će trajati 90 minuta, a prema rečima Christian Scalzi-ja, direktora turnira ulazak u isplate se očekuje tek u Danu 3.