Italian Dario Sammartino na Korak do Velikog WSOP Rezultata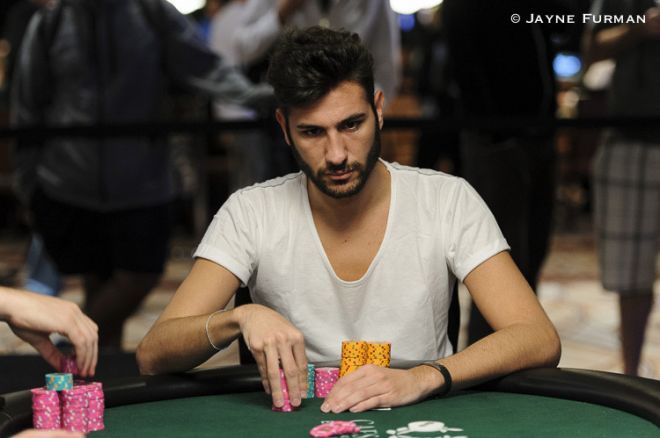 Nakon fantastičnih perfomansa prikazanih na European Poker Tour Grand Finalu italijanska poker zvezda Dario Sammartino nastavlja da niže sjajne rezultate i na World Series of Poker šampionatu.
Pre nego što napravimo presek Sammartinovih rezultata na 2015 WSOP, osvrnućemo se na njegova postignuća u Monaku. Njegov najveći rezultat u okviru European Poker Tour Grand Finala je 4. mesto na €100,000 Super High Rolleru za €709,500. Pored toga, Sammartino je bio 17. na €10,600 Main Eventu za €51,350 i 6. na €25,500 High RollerU za €257,400.
U Las Vegasu je izborio finalni sto na $10,000 Pot-Limit Hold'em Championshipu na kojem je za 6. mesto uzeo nagradu od $60,545. O tome koliko je ovo zaista veliki uspeh najbolje govori podatak da su u polju bile prisutne brojne poker zvezde i da su se za finalnim stolom našli Shaun Deeb, Paul Volpe, Jason Les, Sam Stein, Greg Merson, Kristijonas Andrulis, Ismael Bojang i Jason Koon. Deeb je kasnije pobedio na eventu za narukvicu i nagradu u iznosu od $318,857.
Desetak dana nakon toga, Sammartino je učetvovao na još jednom WSOP elitnom eventu, $5,000 Six-Max No-Limit Hold'em turniru koji je okupio veliko polje od 550 ulaza. Sammartino je i na ovom eventu pronašao put do finalnog stola sa kojeg je eliminisan na 4. mestu za nagradu od $163,604.
Ta dva rezultata iz evenata sa velikim buy-in-om, biće dovoljna da se Sammartino na Global Poker Index WSOP Player of the Year listi preseli u top 30.
Sammartino je u prethodna dva meseca pokazao da ima sve što je potrebno da pokuca na vrata velikih naslova i da je realizacija istih samo pitanje dana. U $10,000 Pot-Limit Hold'em Championship eventu, Sammartino je u finalnoj ruci nakon što se našao u preflop all in-u izgubio sa ručnim parom kraljeva od Deeba koji je imao par četvorki. .
Na poslednjem finalnom stolu, Sammartino je takođe izgubio finalnu ruku od, kasnije će ispostaviti, pobednika tog eventa. On je svoj short stack gurnuo sa
, a Jason Mercier ga platio sa
. Sammartino je uništen već na flopu
, a turn
i river
samo su potvrdili Mercierovu nadmoć. I ovaj put je Sammartinu bilo potrebno malo više sreće, a ovi njegovi rezultati se mogu protumačiti kao nagoveštaj nekog velikog uspeha koji bi mogao da stigne vrlo uskoro .
Ostanite u toku sa dešavanjima u poker svetu - pratite nas na Twitter-u i Facebook-u.