Najboljih 69 Igrača na WSOP 2015 Main Eventu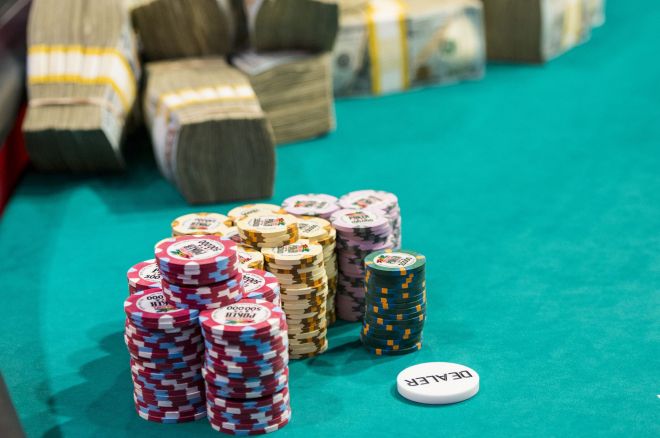 Na 2015 World Series of Poker Main Eventu je ostalo još samo 69 igrača od kojih će devetoro biti budući November Nine članovi, dok će samo samo jedan od njih otići kući bogatiji za iznos od $7.68 miliona.
2015 World Series of Poker Main Event je privukao 6,420 igrača – koji su kreirali nagradni fond od $60,348,000 – dok je u isplatu ušlo 1,000 igrača.
Najbliži nagradi od $7.68 miliona trenutno je 72-godišnji Pierre Neuville koji zahvaljujući 7,105,000 chip-ova sa top pozicijom otvara Dan 6.
Pretposlednji dan WSOP akcije okupiće dosta poznatih lica i veliki broj igrača koji su već prethodnih godina učestvovali u ovom najvećem svetskom poker eventu. PokerNews Vam predstavlja 69 preostalih igrača. U okviru tabele u nastavku dajemo prikaz njihovih najboljih rezultata na prethodnim Main Eventima kao i startni broj chip-ova u Danu 6.
Od preostale ekipe čak njih 41 nije nikada ušlo u isplate na WSOP Main Eventu. Najbolji plasman ostvario je Matt Jarvis, završivši na 8. mestu od 7,319 učesnika na 2010 WSOP Main Event za $1.045 milion, dok su samo trojica igrača — Brian Hastings, Anton Morgenstern i Bob Buckenmayer — imali šestocifrenu zaradu na prethodnim eventima.
| Igrač | Stack pred Dan 6 | Najbolji Rezultat | Mesto | Nagrada |
| --- | --- | --- | --- | --- |
| Pierre Neuville | 7,105,000 | 2010 | 662 of 7,319 | $21,327 |
| David Stefanski | 6,480,000 | -- | -- | -- |
| Thomas Paul | 6,140,000 | -- | -- | -- |
| (other) David Peters | 6,130,000 | 2012 | 107 of 6,598 | $52,718 |
| Mozheng Guan | 6,030,000 | 2010 | 122 of 7,319 | $57,102 |
| Andrew Moreno | 5,320,000 | 2012 | 177 of 6,598 | $44,655 |
| Matt Jarvis | 5,250,000 | 2010 | 8 of 7,319 | $1,045,743 |
| Thomas Cannuli | 5,070,000 | -- | -- | -- |
| George McDonald | 4,940,000 | -- | -- | -- |
| Brian Hastings | 4,740,000 | 2014 | 64 of 6,683 | $103,025 |
| Zvi Stern | 4,415,000 | -- | -- | -- |
| Erasmus Morfe | 4,315,000 | -- | -- | -- |
| Chad Power | 4,310,000 | -- | -- | -- |
| Max Steinberg | 4,285,000 | 2013 | 131 of 6,352 | $50,752 |
| Ghattas Kortas | 4,275,000 | 2013 | 609 of 6,352 | $19,106 |
| Christoph Brand | 4,270,000 | -- | -- | -- |
| Anton Morgenstern | 4,200,000 | 2013 | 20 of 6,352 | $285,408 |
| Thomas Kearney | 3,885,000 | -- | -- | -- |
| Ronald McGinnity | 3,825,000 | 2013 | 446 of 6,352 | $24,480 |
| Joseph McKeehen | 3,660,000 | 2013 | 489 of 6,352 | $24,480 |
| Bradley St. Vincent | 3,650,000 | -- | -- | -- |
| Daniel Negreanu | 3,620,000 | 2001 | 11 of 613 | $63,940 |
| Amar Anand | 3,600,000 | -- | -- | -- |
| Jake Toole | 3,535,000 | -- | -- | -- |
| Justin Schwartz | 3,495,000 | -- | -- | -- |
| Julian Parmann | 3,490,000 | 2009 | 412 of 6,494 | $27,469 |
| Mark Kroon | 3,250,000 | 2011 | 399 of 6,865 | $30,974 |
| Jonas Mackoff | 3,035,000 | -- | -- | -- |
| Robert Mitchell | 3,000,000 | -- | -- | -- |
| John Hinds | 2,965,000 | -- | -- | -- |
| Federico Butteroni | 2,945,000 | -- | -- | -- |
| Steve Gross | 2,750,000 | 2011 | 593 of 6,865 | $21,295 |
| Toby Lewis | 2,645,000 | -- | -- | -- |
| Chun Law | 2,580,000 | -- | -- | -- |
| Bruce Peery | 2,400,000 | -- | -- | -- |
| Kilian Kramer | 2,335,000 | -- | -- | -- |
| Kelly Minkin | 2,145,000 | -- | -- | -- |
| Shay Zurr | 2,140,000 | -- | -- | -- |
| Patrick Chan | 2,105,000 | -- | -- | -- |
| Nikita Nikolaev | 2,075,000 | 2011 | 603 of 6,865 | $21,295 |
| Hans Joaquim Hein | 2,025,000 | 2012 | 163 of 6,598 | $44,655 |
| Samuel Gagnon | 2,005,000 | 2013 | 441 of 6,352 | $24,480 |
| Curtis Anderson | 1,980,000 | -- | -- | -- |
| Fedor Holz | 1,945,000 | -- | -- | -- |
| Upeshka De Silva | 1,750,000 | -- | -- | -- |
| Arman Soltani | 1,690,000 | -- | -- | -- |
| Christopher Horter | 1,625,000 | -- | -- | -- |
| Randall Clinger | 1,600,000 | -- | -- | -- |
| Wasim Ahmar | 1,550,000 | -- | -- | -- |
| James Magner | 1,500,000 | -- | -- | -- |
| Justin Conley | 1,490,000 | 2011 | 627 of 6,865 | $19,359 |
| Thomas Arvidsson | 1,485,000 | -- | -- | -- |
| Joshua Beckley | 1,440,000 | -- | -- | -- |
| Blake Bohn | 1,410,000 | 2011 | 126 of 6,865 | $54,851 |
| Jeffrey Platt | 1,305,000 | 2014 | 203 of 6,683 | $44,728 |
| Justin Bonomo | 1,295,000 | 2009 | 442 of 6,494 | $25,027 |
| Charles Chattha | 1,200,000 | -- | -- | -- |
| Alexander Turyansky | 1,195,000 | -- | -- | -- |
| Gabi Livshitz | 1,155,000 | -- | -- | -- |
| Bradley Berman | 1,155,000 | 2004 | 31 of 2,576 | $80,000 |
| Lucas Fauth | 1,140,000 | -- | -- | -- |
| Bob Buckenmayer | 870,000 | 2012 | 17 of 6,598 | $369,026 |
| Mario Sequeira | 625,000 | -- | -- | -- |
| Dmitry Chop | 600,000 | -- | -- | -- |
| Max Greenwood | 590,000 | 2011 | 537 of 6,865 | $23,876 |
| Marcus Van Opzeeland | 580,000 | -- | -- | -- |
| Neil Blumenfield | 570,000 | 2012 | 285 of 6,598 | $38,453 |
| Andrew Jenkins | 440,000 | 2011 | 183 of 6,865 | $47,107 |