Pet Potencijalnih Favorita na WSOP 2015 Main Eventu
Mo Nuwwarah
Marty Derbyshire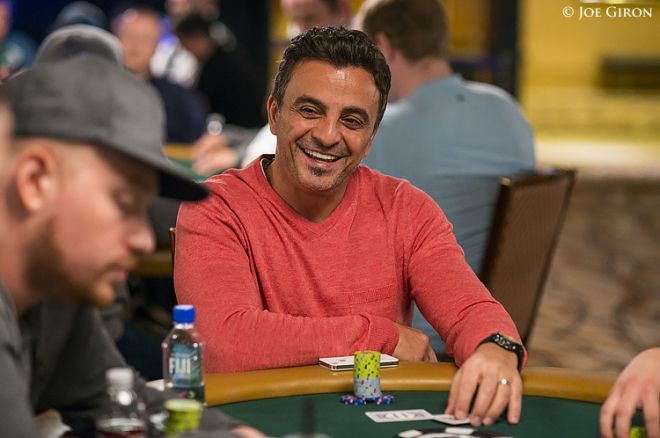 Počeo je 2015 World Series of Poker Main Event sa prvim od tri startna leta u Rio All-Suite Las Vegas Hotel and Casinu. Procenjuje e da će više od 6,500 igrača okušati svoju sreću i pokušati da obezbedi "status poker besmrtnosti" na ovom prestižnom event-u sa $10,000 buy-in-om. Pred sam početak, u poker javnosti je nekoliko igrača steklo status "favorita", sa mnogim, najvećim šansama za dobar plasman na ovom nezvaničnom Svetskom Prvenstvu u pokeru.
PokerNews vam predstavlja top 5 igrača u koje su "uprti svi pogledi" na 2015 WSOP Main Event-u.
Joe Hachem
Pre svega, ovo je jubilarna 10. godišnjica od pobede Joe Hachema na 2005 WSOP Main Event.
Godinu dana kasnije, Hachem je na World Poker Touru osvojio i 2006 WPT Doyle Brunson North American Poker Classic za $2,207,575 i u ovih deset godina upisao $12,056,258 od turnirskih zarada.
U žestokoj konkurenciji, Hachem na 2015 WSOP Main Event ulazi sa velikim šansama za još jedan poker bum kao svojevrstan dokaz desetogodišnjeg uspešnog opstanka u poker svetu.
Mike Watson
Jedan od najuspešnijih turnirskih poker igrača današnjice, Mike Watson sa $8.3 miliona live keš zarade i $2.97 miliona zahvaljujući online uspesima kao "SirWatts." Kanađanim, koji je postigao skoro sve što može u poker svetu, ipak ima jednu prazninu — nema nijednu WSOP zlatnu narukvicu.
Watson je sa pet isplata i tri finalna stola napravio lep put na ovogodišnjem WSOP šampionatu. Ipak 6. mesto mu se u ovoj godini pokazalo kao najuspešniji finiš jer je sva tri finalna stola okončao na toj poziciji.
Sa kombinacijim jake no-limit hold'em turnirske igre, neosporne želje za osvajanjem narukvice, "running hot" statusa, Watson je veliki favorit za osvajanje titule.
Anthony Zinno
Sledi čovek koji je odmah iza Mike Gorodinsky-og u WSOP Player of the Year trci.
Uprkos činjenici da je trostruki WPT šampion i WPT Season XIII Player of the Year, od Anthony Zinno-a se nije mnogo očekivalo na 2015 WSOP.
Na ovogodišnjem WSOP imao je pet isplata, trijumf na jednom od najvećih evenata $25,000 Pot-Limit Omaha High Rolleru za više od $1.1 milion, dok je na 5. mestu završio event $111,111 High Roller for One Drop za nagradu od $565,864.
Iako je ovog leta pokazao svestranost sa PLO pobedom, kao i Omaha hi-low i limit hold'em finalnim stolovima, Zinno je prepoznatljiv po njegovim no-limit hold'em uspesima i to će svakako pokušati da dokaže na Main Eventu.
Cord Garcia
Jedna od potrebnih osobina za pobedu na Main Eventu je deklarisati ogromnu legiju amatera vešto izbegavajući potencijalna minska polja koja su smeštena na svakom uglu. Jedan od najveštijih igrača u tome je svakako Cord Garcia.
Garcia je nadigrao najveće polje u live turnirskoj istoriji — 22,374 ulaza — osvojivši The Colossus za $638,880. Garcia se samim tim dokazao u ovoj oblasti savladavanjem polja mnogo neiskusnijih protivnika, a obezbedio je i $400,000 u isplatama uglavnom od evenata sa trocifrenim buy in-ovima u okviru WSOP Circuita.
Predhodni podaci govore dosta u prilog Garcie i jasno ističu njegove prednosti sa kojima će startovati na Main Eventu .
Phil Hellmuth
Samoproklamovani najbolji svetski no-limit hold'em igrač, osvajač 14 WSOP narukvica i 1989 WSOP Main Event šampion Phil Hellmuth je svakako jedan od ozbiljnih favorita pred početak Main Eventa.
Hellmuth je ovog leta uspeo da osvoji $10,000 Razz Championship iako mu kritičari nisu davali velike šanse ističući da nije osvojio no-limit hold'em event još od World Series of Poker Europe Main Event iz 2012. U okviru ovogodišnjeg prvenstva bio je i šesti na turniru $111,111 High Roller for ONE DROP i 16. na $2,500 No-Limit Hold'emu.
Uspešan put kroz ovogodišnji WSOP daje Hellmuthu lepe šanse za kulminaciju na 2015 WSOP Main Eventu.
Ostanite u toku sa dešavanjima u poker svetu - pratite nas na Twitter-u i Facebook-u.