2015 WSOP November Nine: Sve Oči Su Na Joe McKeehen Koji Ima Veliki Chip Lead
Donnie Peters
Mo Nuwwarah
Chad Holloway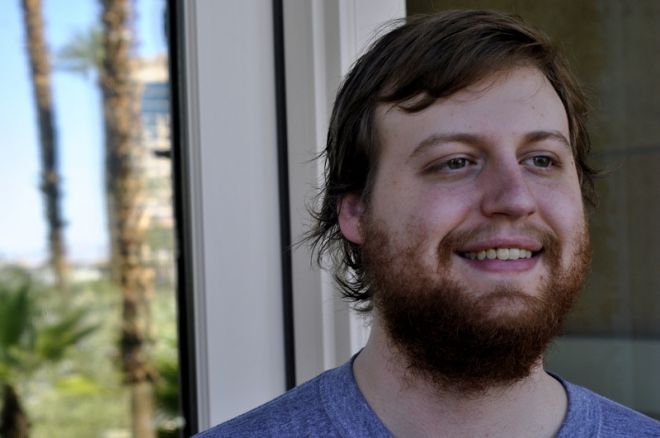 Od kad je izbio na vrh po čipovima u Danu 4 , dvadesetčetvorogodišnji Joe McKeehen iz North Wales, Pennsylvania, je postao ozbiljan kandidat da postane November Nine. Sa nešto ispod $2 miliona u zaradama na turnirima McKeehen je jedan od najiskusnijih preostalih igrača.
McKeehen je naučio da igra poker negde oko 2003 godine kada je gledao poker na TV-u. Iako tada nije bio dovoljno odrastao da bi mogao legalno da ga igra McKeehen je prvo krenuo da igra online pre nego što je posetio Turning Stone Resort Casino kada je napunio 18 godina. Onda, kada je napunio 20 McKeehen je osvojio svoju prvu šestocifrenu cifru kada je pobedio na $2,150 No-Limit Hold'em Turbo side event-u na PokerStars Caribbean Adventure za $116,230.
Uprkos nagradi, McKeehen je ostao u školi na Arcadia Univerzitetu, privatni univerzitet izvan Filadelfije, gde je diplomirao na predmetu matematike.
Prošlog leta je ovogodišnji November Nine chip leader osvojio najveći skor u svojoj karijeri kada je završio kao runner-up na Event #51: $1,500 Monster Stack za $820,863 na WSOP-u.
"Veoma je cool biti deo Novembarske Devetorke," rekao je McKeehen. "Radio sam naporno za to. Veoma sam uzbuđen što imam veliki chip lead i jedva čekam novembar da završim posao."
"Ušao sam u poker gledajući ga na TV-u i igrajući sa mojim prijateljima," rekao je McKeehen. "Tokom godina sam mislio da sam sve bolji u igri pa sam odlučio da postanem profesionalac. Na sreću, imao sam pristojan uspeh na početku i to mi je pomoglo da ne odustanem od svojih snova. U igru sam se ozbiljno uključio na prvoj godini fakulteta što je bilo pre 6 godina. Igrao sam online dosta, a počeo sam da prelazim na live kada sam napunio 21 godinu. Live igram već tri godine."
"Opustiću se," rekao je McKeehen pošto imam slobodno skoro četiri meseca pre finalnog stola. "Nisam uopšte razmišljao u napred tokom turnira. Sada kada imam četiri meseca, definitivno ću uraditi neke pripreme. Prostudiraću moje protivnike. Pošto igram već duže vreme pokupio sam dosta stvari koje ljudi koji ne igraju tako dugo verovatno nisu."
Te stvari koje je pokupio su — "čitanje protivnika" — i to su stvari koje mogu da se pokupe samo igranje mnogo live pokera, što je McKeeheni uradio.
"Ovaj turnir, mislim da sam pokupio dosta ridova mojih protivnika tokom svih sedam dana," rekao je McKeehen. "To mi je pomoglo da donesem mnogo odluka i da izgradim veliki stack zbog toga što je većina njih bila tačna."
"Sve oči će biti okrenute ka meni, zato što sam ja eliminisao Daniel Negreanu i zato što sam na finalna dva stola igrao 75 procenata ruku," zaključuje McKeehen. "Ja ne osećam pritisak. Ako ništa pritisak će biti na svima ostalim. Ako ja izgubim neki veliki pot verovatno ću i dalje biti chip leader. Sve što mogu da uradim je da se koncentrišem i da ostanem u trenutku."
Ostanite u toku sa dešavanjima u poker svetu - pratite nas na Twitter-u i Facebook-u.