Phil Hellmuth u Berlinu Traži 15. WSOP Narukvicu
Marty Derbyshire
Balkan PokerNews Staff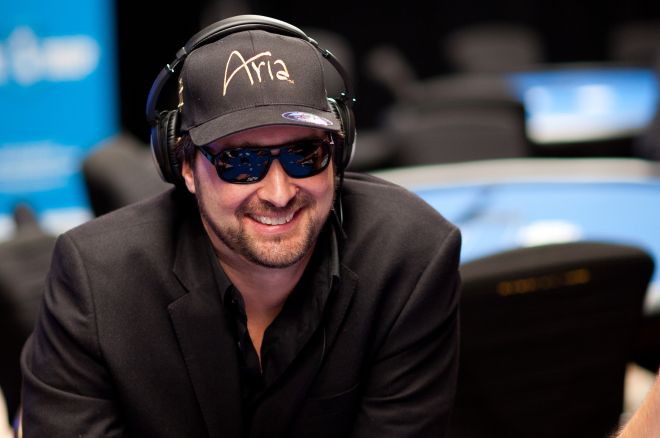 U tipičnom "Poker Brat" fazonu, Phil Hellmuth se pojavio prilično kasno na prvom event-u 2015 World Series of Poker Europe u Berlinu.
Rekorder, osvajač 14 WSOP zlatnih narukvica se kasno registrovao na Event #1: €2,200 Six-Handed No-Limit Hold'em i bio je raspoložen za nadmetanje jer je ubrzo kroz igru napravio 3-puta veći stack od početnih 10,000 čipova.
Međutim, negde na sredini 11. levela sve se srušilo.
"Ogorčen sam, ne mogu da verujem šta se desilo," rekao je Hellmuth za PokerNews. "Blind-ovi su bili 500/1,000 i svi su igrali poprilično stegnuto. Čovek je open-ovao 3,500 — taj stariji gospodin, pa sam pomislio da ima jaku ruku. Pogledao sam svoje karte AK na BB i bio u fazonu, 'Uredu, hajde da igramo.' Gurnuo sam mu all in i on je call-ovao sa KJ u boji.
"Okreće se A i pomislio sam pobediću ali usledila je Q pa T. Ne mogu da shvatim šta se desilo. On je rekao 'OK, izvinjavam se.' OK, to je uredu, ne želim da pominjem imena ili da kažem ko je on, ali WTF čoveče? Doleteo sam skroz ovamo zbog ovoga? Da sam uzeo taj pot sigurno bih prošao u Dan 2 i bio nagrada! Lepe stvari bi se dešavale u nastavku."
Umesto toga, Hellmuth je kasnije očistio ostatak svojih čipova i moraće da sačeka neki drugi dan za osvajanje narukvice broj 15. Bilo kako bilo, sa manjim brojem učesnika na WSOP Europe, on je prepoznao šansu za osvajanjem narukvice.
"Stvarno je tako," rekao je da postoji velika šansa da osvoji još jednu. "Ja ne znam da li sam ikada u karijeri osvojio narukvicu na eventu na kom je bilo manje od 100 igrača. Svi govore 'Oh, Phil je osvojio njegovu narukvicu u konkurenciji od 12 igrača.' Ne. Ja mislim da je nisam nikada osvojio protiv manje od 100 ljudi. Izgleda je slučaj da ih ja osvajam na hold'em turnirima a oni igraju uvek protiv najvećeg polja igrača."
Prelistavajući WSOP knjige rekorda, Hellmuth jeste osvojio narukvicu u konkurenciji manjoj od 100 igrača, ali se to desilo samo dva puta — 1992 $5,000 Limit Hold'em event sa 84 igrača i 1993 $5,000 Limit Hold'em event sa 69 igrača. Naravno, mora da je teško setiti se tačno koliko ste pobedili igrača svaki put kada ste osvojili zlatnu narukvicu ako ih imate 14 pa mu to nećemo uzeti za zlo jer je prosek igrača koji su bili na tih 14 event-a gde ih je osvojio bio impresivnih 564 ulaza.
"Pre desetak minuta sam bio odlično raspoložen i onda se desi ovo," nastavio je. "Ali hajde samo da kažemo da turnir ima odličan [raspored] i da nisam mogao da ga propustim. Imao sam snimanje jedne reklame za jedan veliki brand sa Daniel [Negreanu], ali sam odbio jer nisam mogao propustiti ovaj festival. I sada tražim svoju šansu."
2012. Hellmuth je osvojio WSOP Europe Main Event i time bio u vođstvu na WSOP Player of the Year Race listi ali ga je na kraju pretekao Greg Merson, kada je, mesec dana kasnije, osvojio WSOP Main Event.
I to je bilo treći put da završava na drugom mestu te liste.
"To je bolelo," prisetio se. "Pomislio sam najzad ću pobediti."
Posle osvajanja narukvice u Las Vegas-u ovog leta, Hellmuth je trenutno na 9. mestu ( WSOP POY lider je Mike Gorodinsky), ali se raduje šansi da se vraća u borbu za tu titulu baš sa ove strane Atlantika.
"Biće teško. Potrebno je da osvojim dva eventa, ali sve je moguće," zaključuje Hellmuth.
Ostanite u toku sa dešavanjima u poker svetu - pratite nas na Twitter-u i Facebook-u.