Sunday Briefing: Sr.Rouquinho Osvojio Sunday Million za $172,000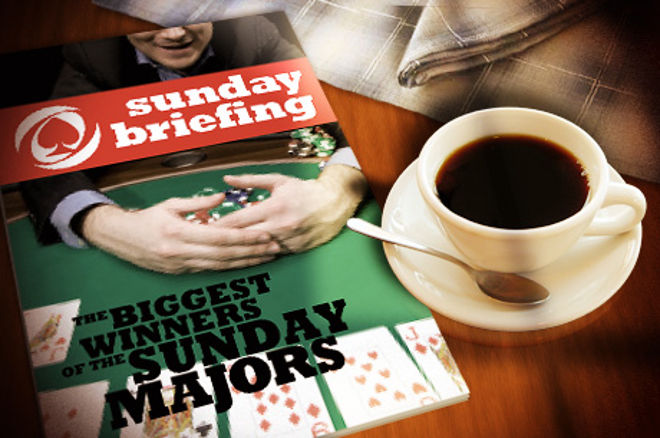 Šta bi ste uradili sa $171,854.75? To je pitanje koje bi trebali da pitamo Čeha "Sr.Rouquinho," zato što je to suma sa kojom je osvanuo u ponedeljak nakon što je ostao poslednji igrač na PokerStars Sunday Million-u.
Uprkos tome što je ogroman deo igrača prisutan na UKIPT i European Poker Tour festivalu u Dablinu u Irskoj, skoro 5,500 igrača uplatilo je svoje mesto na PokerStars-ovom najvećem nedeljnom turniru.
U dodatku Sr.Rouquinho-u, ruski igrač "NEMEZIS JT" ostvario je šestocifreni skor težak $128,010.20. Finski igrač "ismo<3seppo," trostruki osvajač na PokerStars-ovom tournament leaderboard-u u 2013, 2014, i 2015 godini, završio je na trećem mestu za cifru od $62,082.20.
Ovonedeljni PokerStars Sunday Warm-Up završio je u three-way chop-u, gde su sva tri igrača podelila cifru od preko $46,000. "arturuz77" završio je na trećem mestu za $46,293.12, grčki igrač "Pokerfan89Gr" bio je runner-up za $53,416.40, a švajcarac "shtruddle" završio je pobedom i sakupio $64,427.98.
Pobednici na nedeljnim PokerStars glavnim turnirima su:
"MiracleQ" – pobednik Sunday Kickoff-a za $28,134.80
Pascal "Paffchen" Hartmann – pobednik Hotter $162 za $20,341.25
"Kafrou" – pobednik Sunday Rebuy-a za $32,405.51
"kritikomas" – pobednik Bigger $109 for $35,472.51
Laszlo "omaha4rollz" Bujtas – pobednik Sunday 500 za $57,750.00
Noah "dirty.brasil" Vaillancourt – pobednik Bigger $162 za $30,032.40
Vicente "vicenfish" Delgado – pobednik Sunday 2nd Chance za $35,784.00
Alisson "heyalisson" Piekazewicz – pobednik Sunday 6-Max za $19,373.12
"calo88" – pobednik Sunday Supersonic-a za $44,737.31
Pored toga, na partypokeru, "MrsPaintba1l" osvojio je $150,000 garantovani High Roller za $27,780 nakon heads-up borbe protiv "ErikSchniedel," za koga se tvrdi da je Ole Schemion. On je osvojio $19,515 za runner-up poziciju.
Drugi $150,000 garantovani turnir na partypokeru ove nedelje bio je Main Event, koji je privukao 1,414 igrača. "lovecClCA" osvojio je prvo mesto pobedivši "spowi007" za titulu. Heads-up duo dogovorio je sledeće isplate: pobedniku je pripalo $24,136.57 a runner up je odneo $22,633.44.
Bilo je poznatih lica i na $100,000 Sunday Challenge na 888poker. Britanski superstar Chris "WhatWudJSay" Moorman završio je na prvom mestu pobedivši polje od 777 igrača i stavio svoje ruke na cifru od $18,809.48, koliko je iznosilo prvo mesto. Sa ovom pobedom, Moorman je sakupio $13 miliona u svojoj online turnirskoj karijeri.
Nemac "_hiuspeinz_" osvojio je $70,000 Sunday Crocodile za $15,762.50, dok su igrači iz Češke Republike završili na prvom i drugom mestu $75,000 Baby Whale-a gde je "Kuncito 1997" pobedio svog zemljaka "OMGmadafaka" i sakupio nagradu vrednu $24,738.00. Drugo mesto iznosilo je $18,228.00.
Našu nedeljnu rekapitulaciju završavamo rezultatima na Full Tilt-u. "KokoulinV" osvojio je Sunday Brawl za $7,892.65.
"Pisstanek" je osvojio Sunday Major dodavši na svoj bankroll cifru od $12,090.00 , dok je Paul "Sentapied" Senter osvojio T-Rex za $3,686.56, što je uključilo i devet bounty-a u vrednosti od $50.
Želite da pratite poslednje aktuelnosti u svetu pokera? Pratite nas na Twitter-u i Facebook-u !