Farid Yachou Pobednik Prvog WPT Tournament of Champions za $381,600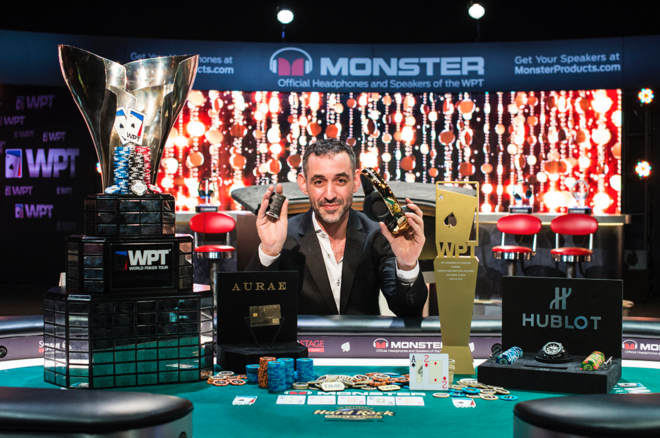 Pobednik inauguralnog Monster World Poker Tour Tournament of Champions je Farid Yachou koji je za ovaj uspeh nagrađen sa titulom osvojio novčanu nagradu od $381,600.
Osim toga, Yachou je osvojio2016 Corvette, sat Hublot King Power Unico Titanium, Aurae® Solid Gold MasterCard, i par zlatnih Monster® 24K Headphones, premium poker sto BBO Poker Tables, mesto na Tiger's Poker Night Presented by World Poker Tour i partiju golfa na Shadow Creek Golf Course sa Matt Savage-om. Procenjeno je da dodatne nagrade imaju vrednost od $150,000.
Ovom pobedom Yachou je podigao na $600,000 svoju live turnirsku zaradu. On je imamo veoma zanimljivu priču vezanu za ovaj šampionat.
Pre svega, Yachou se plaši letenja ili preciznije rečeno "skameni" se svaki put kada ugleda avion. Kada je osvojio WPT Amsterdam na samom početku sezone 2015. rečeno mu je da će se ovaj specijalni event održati u Americi. Zbog straha od letenja Yachou je na početku rekao da neće učestvovati. Pored toga interesantno je da Yachou nikada ranije nije posetio Ameriku. Uz to sve, Yachou je bila potrebna viza, a on je papire predao veoma kasno tj. poslednji dan u roku. Yachou je pre Monster WPT Tournament of Champions od live turnirskih rezultata imao upisanu samo pobedu na WPT Amsterdam.
Finalni Sto - Rezultati
| Plasman | Igrač | Država | Nagrada |
| --- | --- | --- | --- |
| 1 | Farid Yachou | Holandija | $381,600 |
| 2 | Vlad Darie | Rumunija | $224,190 |
| 3 | Michael Mizrachi | SAD | $140,450 |
| 4 | Jonathan Jaffe | SAD | $95,400 |
| 5 | Noah Schwartz | SAD | $74,200 |
| 6 | Darren Elias | SAD | $58,300 |
U heads-up je Yachou ušao sa 1.656 miliona dok je Darie imao 1.545 milion.
Heads-up je trajao 12 ruku. U finalnoj ruci, Darie je raise-ovao sa BTN do 50,000, a Yachou call-ovao sa BB za flop
. U nastvaku je Yachou check-raise-ovao Dariov bet od 50,000 sa 250,000, a Darie call-ovao. Na turnu
Yachou bet-uje 200,000, Darie call-uje. Na riveru
Yachou gura all in od preostalih 1.6 miliona. Darie odlučuje da call-uje sa
sa dva para i king high. Yachou je sa
sklopio full house koji mu je doneo najveći rezultat u karijeri.
Za runner-up finish, Darie je osvojio $224,190.
*Fotografiju ustupio WPT.
Saznajte sve poslednje PokerNews vesti putem socijalnih mreža. Pratite nas na Twitter-u kao i na našoj Facebook stranici.