Fedor Holz Pobednik One Drop High Roller-a za $4.98 Miliona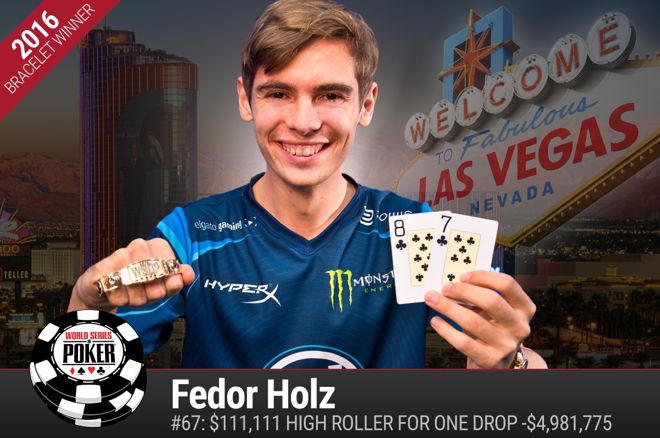 Mlada nemačka poker zvezda Fedor Holz je do sada zabeležio zaista impresivne rezultate u svetu live i online turnirskog pokera. Njegvoj bogatoj kolekciji nedostajala je samo World Series of Poker narukvica koju je u okviru aktuelnog šampionata uspeo da osvoji i to za pobedu na turniru $111,111 High Roller for One Drop.
Nemac je u konkurenciji od 183 učesnika za šampionski plasman nagrađen sa $4,981,775 i to je najveća novčana nagrada u njegovoj dosadašnjoj karijeri u kojoj je zabeležio nekoliko sedmocifrenih isplata .
"Obično nemam problem da dam izjavu, ali sada stvarno ne znam šta da kažem," rekao je on nakon pobede. "Neverovatan osećaj, čini mi se da mogu da dotaknem nebo."
Finalni Sto - Rezultati
| Plasman | Igrač | Država | Nagrada |
| --- | --- | --- | --- |
| 1 | Fedor Holz | Nemačka | $4,981,775 |
| 2 | Dan Smith | SAD | $3,078,974 |
| 3 | Koray Aldemir | Austrija | $2,154,265 |
| 4 | Jack Salter | VB | $1,536,666 |
| 5 | Brian Green | SAD | $1,117,923 |
| 6 | Joe McKeehen | SAD | $829,792 |
| 7 | Nick Petrangelo | SAD | $628,679 |
| 8 | Niall Farrell | Ukrajina | $486,383 |
Holz je do sada zabeležio zaista impresivne rezultate u high roller eventima. Do sada u 2016. zabeležio je ukupne isplate od preko $9 miliona u High Roller for One Drop eventima. Osvojio je $200,000 Triton Super High Roller na Filipinima za $3.4 miliona; za osvojeno 2. mesto na $300,000 Super High Roller Bowl-u uzeo je $3.5 million, a za četiri pobede u eventima ARIA High Roller serije ove godine je osvojio $1.7 miliona.
Sudeći prema ovim rezultatima, nimalo ne čudi što je Holz prijateljima govorio da je ovo veoma bitna nedelja za njega i da ima "dobar osećaj" za ovaj turnir.
Međutim, uzevši u obzir strukturu igrača za finalnim stolom, Holz je bio samo igrač u trci za svoju prvu narukvicu. Amerikanac Dan Smith je na početku igre za finalnim stolom bio u najboljoj poziciji za osvajanje turnira, ali se situacija preokrenula u finalnih 6 igrača.
Najpre je Holz sa
eliminisao 2015 WSOP Main Event šampiona Joe McKeehen-a koji već sa
već na flopu
nije imao sreće.
Već u narednoj ruci Holz gura all in sa CO držeći
i dobija call od Brian Green-a sa
. Board
doneo je eliminaciju žitelju Texasa koji je za 5. mesto osvojio $1,117,923 .
U nastavku Holz open shove-uje sa BTN držeći
, a Salter sa SB gura svoje preostale chip-ove sa
. Kralj-high na boardu donosi Britancu eliminaciju, a mladom Nemcu vođstvo u heads-up-u protiv Dan Smith-a.
U odlučujućoj ruci Holz open-uje do 1.8 miliona, a Smith 3-bet-uje do 6 miliona. Holz call-uje, a nakon toga na flopu
call-uje i 4.1 miliona. Smith check-ira turn
, a Holz bet-uje 5.4 miliona. Smith check-ira river
, Holz shove-uje preostalih 19 milliona, a Smith nakon nekoliko minuta razmišljanja odlučuje da call-uje.
Holz okreće
za trips dok Smith pokazuje
za dva para koji mu u ovoj situaciji nisu bili dovoljni za pobedu.
Budite u toku i preko socijalnih mreža saznajte sve poslednje vesti iz sveta pokera. Pratite nas na Twitter-u kao i na našoj Facebook stranici.