U Nedelju Počinje WCOOP $102,000 Super High Roller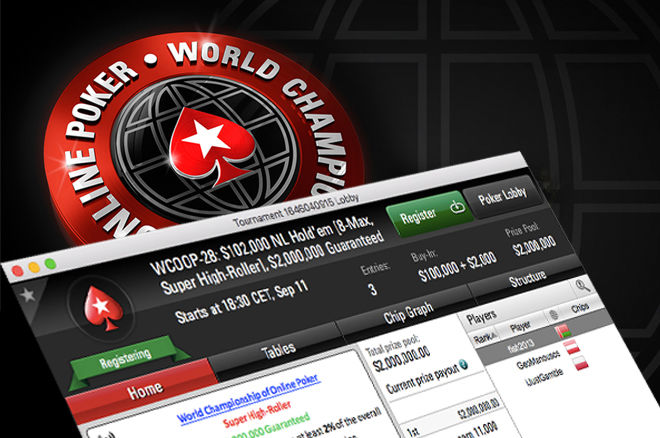 ---
Sutra (Nedelja, 11. Septembar 2016.) u 18.30h na PokerStarsu počinje event sa najvećim buy-in-om u online poker istoriji. Igrači koji žele da uzmu učešće u 8-Max Super High Roller eventu ( event 28 na rasporedu šampionata World Championship of Online Poker) moraće da uplate buy-in od $102,000. Sa garancijom od $2,000,000 ovo je drugi najveći online event, odmah posle Main Eventa.
Prošlogodišnji Super High Roller format imao je online debi kao deo šampionata WCOOP 2015 , a buy-in za ovaj event je iznosio $51,000. Ben "Ben86" Tollerene je tada trijumfovao u konkurenciji od 46 učesnika za nagradu od $616,518.34 . On je do pobede došao nakon deal-a po kojem je drugoplaasirani Jose "Cejakas14" Angel Latorre osvojio $560,412.13, dok je Nikita "fish2013" Bodyakovskiy kao trećeplasirani osvojio $594,069.53.
---
Vodeći ljudi najveće svetske online poker sobe ističu da očekujuju da će $102,000 Super High Roller event ponoviti uspeh prošlogodišnjeg $51,000 Super High Roller-a budući da su tokom višemesečnih konsultacija dobili veoma pozitivne reakcije od samih igrača.
Učešće na ovom eventu potvrdili su Jason Marcier i Jason Somerville, a obojica su i najavili live stream PokerStars $102,000 Super High Roller-a na na Twitch-u.
"Ponosni smo što će posredstvom Twitch-a Jason Mercier prenositi svoju igru na $102,000 Super High Roller-u," rekao je jedan od rukovodećih ljudi Twitcca-a Scott Ball. "Veliki broj poker igrača među kojima sam i ja raduju se tome što će biti u prilici da vide Jason-ovu strategiju i iz ruke u ruku pratiti njegovu igru. Pored toga, moćićemo da pratimo i Jason 'JCarver' Somerville-a koji je osnivač poker streaming-a i Twitch legenda i biće to poprilično uzbudljiv i zabavan dan. Ponosni smo što će na ovaj način i Twitch biti deo istorijskog online poker eventa."
PokerStars je svim high roller igračima poslao smernice za učešće na ovom eventu pri čemu su istakli da posebno povedu računa o tačnosti i dobroj internet konekciji.
Budite u toku i preko socijalnih mreža saznajte sve poslednje vesti iz sveta pokera. Pratite nas na Twitter-u kao i na našoj Facebook stranici.