WSOP Main Event Šampioni: 2003-2015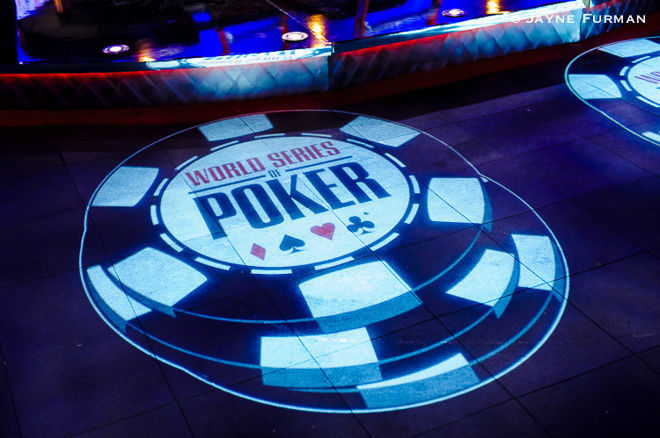 Ovogodišnji World Series of Poker Main Event kroz tri startna dana okupio je 6.373 ulaza što je najveći igrački odziv u posledjih pet godina. To se ipak nije odrazilo na nagrade jer će ovogodišnji svetski šampion dobiti više novca od prošlogodišnjeg, ali manje od svih šampiona od 2005. godine. To je posledica izmenjene strukture isplata i činjenice da će nagradni fond od 63.327.800$ raspodeljen između 1.011 najuspešnijih učesnika!
Predstavljamo pregled poslednjih 13 WSOP Main Event Šampiona koji su krunisani u periodu 2003-2015, odnosno u modernoj WSOP eri. Pored pobednika i iznosa novčanih nagrada koje su osvojili predstavićemo Vam i finalnu konkurenciju koju su morali savladati na putu ka pobedi.
2003 : Chris MoneyMaker (SAD) 2 500 000 $
| Plasman | Igrač | Država | Nagrada |
| --- | --- | --- | --- |
| 1 | Chris Moneymaker | USA | $2,500,000 |
| 2 | Sam Farha | USA | $1,300,000 |
| 3 | Dan Harrington | USA | $650,000 |
| 4 | Jason Lester | USA | $440,000 |
| 5 | Tomer Benvenisti | USA | $320,000 |
| 6 | Amir Vahedi | USA | $250,000 |
| 7 | Young Pak | USA | $200,000 |
| 8 | David Grey | USA | $160,000 |
| 9 | David Singer | USA | $120,000 |
2004 : Greg Raymer (SAD) 5 000 000 $
| Plasman | Igrač | Država | Nagrada |
| --- | --- | --- | --- |
| 1 | Greg Raymer | USA | $5,000,000 |
| 2 | David Williams | USA | $3,500,000 |
| 3 | Josh Arieh | USA | $2,500,000 |
| 4 | Dan Harrington | USA | $1,500,000 |
| 5 | Glenn Hughes | USA | $1,100,000 |
| 6 | Al Krux | USA | $800,000 |
| 7 | Matt Dean | USA | $675,000 |
| 8 | Mattias Andersson | Sweden | $575,000 |
| 9 | Mike McClain | USA | $470,400 |
2005 : Joe Hachem (Australija) 7 500 000 $
| Plasman | Igrač | Država | Nagrada |
| --- | --- | --- | --- |
| 1 | Joe Hachem | Australia | $7,500,000 |
| 2 | Steve Dannenmann | USA | $4,250,000 |
| 3 | John "Tex" Barch | USA | $2,500,000 |
| 4 | Aaron Kanter | USA | $2,000,000 |
| 5 | Andy Black | Ireland | $1,750,000 |
| 6 | Scott Lazar | USA | $1,500,000 |
| 7 | Daniel Bergsdorf | Sweden | $1,300,000 |
| 8 | Brad Kondracki | USA | $1,150,000 |
| 9 | Mike Matusow | USA | $1,000,000 |
2006 : Jamie Gold (SAD) 12 000 000 $
| Plasman | Igrač | Država | Nagrada |
| --- | --- | --- | --- |
| 1 | Jamie Gold | USA | $12,000,000 |
| 2 | Paul Wasicka | USA | $6,102,499 |
| 3 | Michael Binger | USA | $4,123,310 |
| 4 | Allen Cunningham | USA | $3,628,513 |
| 5 | Rhett Butler | USA | $3,216,182 |
| 6 | Richard Lee | USA | $2,803,851 |
| 7 | Doug Kim | USA | $2,391,520 |
| 8 | Erik Friberg | Sweden | $1,979,189 |
| 9 | Dan Nassif | USA | $1,566,858 |
2007 : Jerry Yang (Kina) 8 250 000 $
| Plasman | Igrač | Država | Nagrada |
| --- | --- | --- | --- |
| 1 | Jerry Yang | USA | $8,250,000 |
| 2 | Tuan Lam | Canada | $4,840,981 |
| 3 | Raymond Rahme | South Africa | $3,048,025 |
| 4 | Alex Kravchenko | Russia | $1,852,721 |
| 5 | Jon Kalmar | UK | $1,255,069 |
| 6 | Hevad Khan | USA | $956,243 |
| 7 | Lee Childs | USA | $705,229 |
| 8 | Lee Watkinson | USA | $585,699 |
| 9 | Philip Hilm | UK | $525,934 |
2008 : Peter Eastgate (Danska) 9 152 416 $
| Plasman | Igrač | Država | Nagrada |
| --- | --- | --- | --- |
| 1 | Peter Eastgate | Denmark | $9,152,416 |
| 2 | Ivan Demidov | Russia | $5,809,595 |
| 3 | Dennis Phillips | USA | $4,517,773 |
| 4 | Ylon Schwartz | USA | $3,774,974 |
| 5 | Scott Montgomery | Canada | $3,096,768 |
| 6 | Darus Suharto | Canada | $2,418,562 |
| 7 | Chino Rheem | USA | $1,772,650 |
| 8 | Kelly Kim | USA | $1,288,217 |
| 9 | Craig Marquis | USA | $900,670 |
2009 : Joe Cada (SAD) 8 547 042 $
| Plasman | Igrač | Država | Nagrada |
| --- | --- | --- | --- |
| 1 | Joe Cada | USA | $8,547,042 |
| 2 | Darvin Moon | USA | $5,182,927 |
| 3 | Antoine Saout | France | $3,479,669 |
| 4 | Eric Buchman | USA | $2,502,890 |
| 5 | Jeff Schulman | USA | $1,953,452 |
| 6 | Steven Begleiter | USA | $1,587,160 |
| 7 | Phil Ivey | USA | $1,404,014 |
| 8 | Kevin Schaffel | USA | $1,300,231 |
| 9 | James Akenhead | UK | $1,263,602 |
2010 : Jonathan Duhamel ( Kanada) 8 944 138 $
| Plasman | Igrač | Država | Nagrada |
| --- | --- | --- | --- |
| 1 | Jonathan Duhamel | Canada | $8,944,310 |
| 2 | John Racener | USA | $5,545,955 |
| 3 | Joseph Cheong | USA | $4,130,049 |
| 4 | Filippo Candio | Italy | $3,092,545 |
| 5 | Michael Mizrachi | USA | $2,332,992 |
| 6 | John Dolan | USA | $1,772,959 |
| 7 | Jason Senti | USA | $1,356,720 |
| 8 | Matt Jarvis | Canada | $1,045,743 |
| 9 | Soi Nguyen | USA | $811,823 |
2011 : Pius Heinz ( Nemačka) 8 715 638 $
| Plasman | Igrač | Država | Nagrada |
| --- | --- | --- | --- |
| 1 | Pius Heinz | Germany | $8,715,638 |
| 2 | Martin Staszko | Czech Republic | $5,433,086 |
| 3 | Ben Lamb | USA | $4,021,138 |
| 4 | Matt Giannetti | USA | $3,012,700 |
| 5 | Phil Collins | USA | $2,269,599 |
| 6 | Eoghan O'Dea | Ireland | $1,720,831 |
| 7 | Bob Bounahra | Belize | $1,314,097 |
| 8 | Anton Makiievskyi | Ukraine | $1,010,015 |
| 9 | Sam Holden | UK | $782,115 |
2012 : Greg Merson (SAD) 8 527 982 $
| Plasman | Igrač | Država | Nagrada |
| --- | --- | --- | --- |
| 1 | Greg Merson | USA | $8,531,853 |
| 2 | Jesse Sylvia | USA | $5,295,149 |
| 3 | Jake Balsiger | USA | $3,979,073 |
| 4 | Russell Thomas | USA | $2,851,537 |
| 5 | Jeremy Ausmsu | USA | $2,155,313 |
| 6 | Andras Koroknai | Hungary | $1,640,902 |
| 7 | Michael Esposito | USA | $1,258,040 |
| 8 | Robert Salaburu | USA | $971,360 |
| 9 | Steve Gee | USA | $754,798 |
2013 : Ryan Riess (SAD) : 8 361 570 $
| Plasman | Igrač | Država | Nagrada |
| --- | --- | --- | --- |
| 1 | Ryan Riess | USA | $8,361,570 |
| 2 | Jay Farber | USA | $5,174,357 |
| 3 | Amir Lehavot | Israel | $3,727,823 |
| 4 | Sylvain Loosli | France | $2,792,533 |
| 5 | JC Tran | USA | $2,106,893 |
| 6 | Marc-Etienne McLaughlin | Canada | $1,601,724 |
| 7 | Michiel Brummelhuis | Netherlands | $1,225,356 |
| 8 | David Benefield | USA | $944,650 |
| 9 | Mark Newhouse | USA | $733,224 |
2014 : Martin Jacobson (Švedska) : 10 000 000 $
| Plasman | Igrač | Država | Nagrada |
| --- | --- | --- | --- |
| 1 | Martin Jacobson | Sweden | $10,000,000 |
| 2 | Felix Stephensen | Norway | $5,147,911 |
| 3 | Jorryt van Hoof | Netherlands | $3,807,753 |
| 4 | William Tonking | USA | $2,849,763 |
| 5 | Billy Pappaconstantinou | USA | $2,143,794 |
| 6 | Andoni Larrabe | UK | $1,622,471 |
| 7 | Dan Sindelar | USA | $1,236,084 |
| 8 | Bruno Politano | Brazil | $947,172 |
| 9 | Mark Newhouse | USA | $730,725 |
2015 : Joe McKeehen (SAD) : 7 680 021$
| Plasman | Igrač | Država | Nagrada |
| --- | --- | --- | --- |
| 1 | Joe McKeehen | USA | $7,683,346 |
| 2 | Josh Beckley | USA | $4,470,896 |
| 3 | Neil Blumenfield | USA | $3,398,298 |
| 4 | Max Steinberg | USA | $2,615,361 |
| 5 | Ofer Zvi Stern | Israel | $1,911,423 |
| 6 | Thomas Cannuli | USA | $1,426,283 |
| 7 | Pierre Neuville | Belgium | $1,203,293 |
| 8 | Federico Butteroni | Italy | $1,097,056 |
| 9 | Patrick Chan | USA | $1,001,020 |