Uskoči u sljedeći $2,500 Freebuy 2nd Chance 21. Maja
Matthew Pitt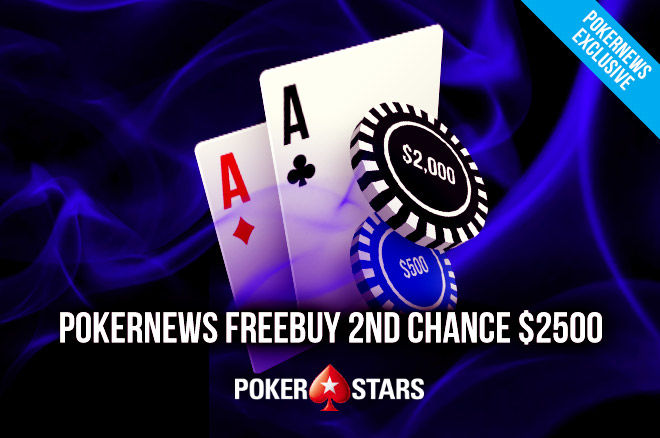 Namjestite svoj alarm u 9:05 p.m. CET 21. Maja zato što je tad vrijeme za zadnji PokerNews Freebuy 2nd Chance turnir na rasporedu.
Takođe tad je vrijeme gjde možete pretvoriti StarsCoin u dio od $2,500.
PokerNews Freebuy 2nd Chance turniri se igraju sa devet igrača na stolu. No-limit holdem je igra izbora. Svaki igrač počeće sa 2,500 žetona i igraće blind level koji se povećava svakih 10minuta.
Tri sjajne mogućnosti postavljene su za ovaj $2,500gtd turnir. Prva, jedino igrači koji su se prijavili na PokerStars putem PokerNews linkova i koji su koristili marketinške kodove mogu igrati, što znači da polje igrača ne bi trebalo biti teško i veliko te imate odlične šanse da osvojite dio od velike nagrade.
Drugo, buy-in za ova vrijedan event iznosi samo jedan StarsCoin, i na kraju, i ukoliko završite učešće tokom kasne registracije, možete uraditi reentry za samo jedan StarsCoin i nastaviti igru za dio od $2,500.
Ukoliko nemate PokerStars account, pratite ove jednostavne stepove.
Sign up for a free account
Enter the marketing code "PNEWS"
Use the code "STARS600" at your first deposit
Register for the event once your ticket is credited
Naravno možete igrati ovaj turnir ukoliko ste napravili prvi depozit na PokerStars tokom 2016 i tokom 2017.
Ako niste u prilici da igrate ovaj PokerNews Freebuy 2nd Chance turnir, tu je još sedam turnira na rasporedu od danas pa do kraja godine, što znači da imate šansu da igrate za dio od $17,500. Dole ispod pogledajte datume za buduće turnire :
Jun. 25, 2017
Jul. 23, 2017
Aug. 20, 2017
Sep. 24, 2017
Oct. 22, 2017
Nov. 19, 2017
Dec. 17, 2017