PokerStars WCOOP Dan 8: Jens Lakemeier Osvojio Treću COOP Titulu
Matthew Pitt
Balkan PokerNews Staff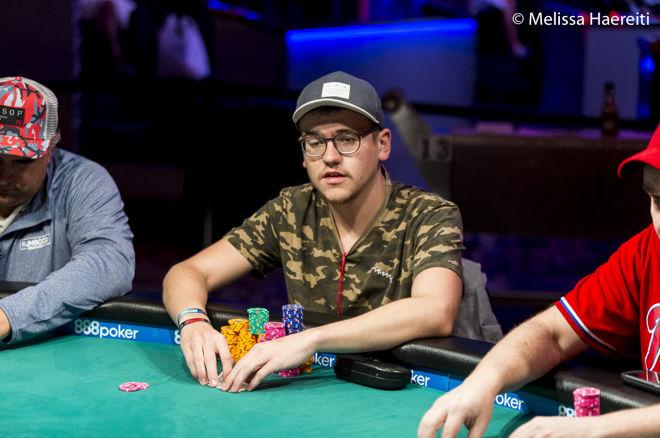 Jens "Fresh_oO_D" Lakemeier je uživao ovog vikenda osvojivši WCOOP-23-H: $1,050 NLHE [6-Max] za $97,459 i treću COOP Titulu.
WCOOP-23-H: $1,050 NLHE [6-Max] Final Table Results
| Place | Player | Country | Prize |
| --- | --- | --- | --- |
| 1 | Jens "Fresh_oO_D" Lakemeier | Germany | $97,459* |
| 2 | xPastorcitox | Argentina | $81,235* |
| 3 | T3G3S | Poland | $84,059* |
| 4 | oleolemaiko | Bulgaria | $42,474 |
| 5 | Alexander "Schildy1984" Debus | Austria | $30,157 |
| 6 | kofi89 | Uruguay | $21,411 |
*3way dogovor
690 ulaza kreiralo je $690,000 prize pool, prebacivši $500,00 garanciju za $190,000. Ovaj veliki fond raspoređen je na 83 igrača uključujući, Jason "jdtjpoker" Wheeler, Sam "SamSquid" Grafton, Christopher "NigDawG" Brammer, Ludovic "ludovi333" Geilich, Rocco "Sephirot88" Palumbo, i Pascal "Pass_72" LeFrancois.
LeFrancois je eliminisan na sedmom mjestu nakon što je izgubio back-to-back coinflip protiv Alexander "Schildy1984" Debus i "oleolemaiko" prije Urugvajca "kofi89" koji je završio na šestom mjestu za $21,411. Urugvajac je callao all-in bet na riveru na
-high boardu sa
samo kako bi vidio "T3G3S"
i dva para.
Debus završava na petom mjestu kada je manje od 10 big blind stavio u sredinu sa
i vidio T3G3Sa koji calluje sa
. Debus je hitao
na flopu ali mu je bio potreban još jedan za preko potrebni double up, ali
na riveru eliminiše Debusa sa turnira.
Ubrzo četiri igrača postala su tri, kada Bugarin oleolemaiko završava učešće u handu protiv Lakemeiera. Lakemeier koji je bio nezaustavljiv u jednom trenutku, našao se u allinu protiv oleolemaikoa sa
, dok je oleolemaiko imao
. Flop je donio dvije devetke te tako eliminisao oleolemaikoa sa turnira.
Preostala tri igrača napravila su dogovor i svakom je osigurao nagradu od $81,235. Takođe dogovor je osigurao $13,800 za eventualnog pobjednika.
Taj pobjednik nije bio T3G3S zato što je bivši SCOOP i WCOOP šampion komitovao svoj stack od skoro 17bbs sa parom
nakon što je Lakemeier napravio mini raise. Nažalost za T3G3S, Lakemeier brzo calluje sa parom
. Board nije donio dramu i to je bio kraj za T3G3S.
Lakemeier je napravio seriju protiv "xPastorcitox" Argentinca koji je imao 2-1 u čipovima ali pet minuta kasniej u jedan na jedan igri, Lakemeier kompletira nuts flush n a riveriu i preuzima vodstvo. Deset handova kansije turnir je završen.
Na
flopu, XPastorcitox odlazi all-in sa
i Lakemeier calluje sa
.
se pojavila na turnu koja je bila praćena
na riveru, što je značio kraj za XPastorcitox na drugom mjestu ostavljajući Lakemeiera kao pobjednika jednog major online turnira.
WCOOP NEWS AND NOTES
Austrijanac "OverTheTop43" osigurao $81,648 trijumfom na WCOOP-22-H: $530 NLHE [Win the Button], "Graftekkel" osvojio WCOOP-20-H-$530 NLHE [3-Max, Turbo, Progressive KO] za $53,659 i $39,200 bounty isplatama.
Pobjednički krug se nastavlja, Rus "WTFOMFGOAO" koji je $1,050 pretovrio u $26,512 nadigravši 100 igrača na WCOOP-24-H: $1,050 2-7 Single Draw turniru.
Tu je takođe i $108,533 rezultat za Brazilca Andre "Andreflk13" Figueiredo koji je nadigrao 3,794 igrača na WCOOP-28-H: $215 NLHE.
Na vrhu WCOOP leaderboarda trenutno je Kanađanin Mike "goleafsgoeh" Leah sa 280 poena, pet više od Ruskog igrača "ImluckNuts" na drugom mjestu. "PSMozak" je na trećem sa 245 poena, zajedno sa Bernado "bedias" Dias i "MITS 304" na četvrtom i petom sa 240 i 235 poena.
Day 8 WCOOP Winners
| Event | Buy-in | Prize pool | Champion | Prize |
| --- | --- | --- | --- | --- |
| #19 PLO-L 6-Max | $55 | $145,930 | jc_bluej | $23,846 |
| #20 NLHE-H 3-Max | $530 | $779,000 | Graftekkel | $92,859* |
| #21 NLHE-H 8-Max | $215 | $273,400 | LoosControl | $42,138 |
| #22 NLHE-H Win the Button | $530 | $495,500 | OverTheTop | $81,648 |
| #23 NLHE-H 6-Max | $1,050 | $690,000 | Jens "Fresh_oO_D" Lakemeier | $97,459 |
| #24 2-7 Single Draw-H | $1,050 | $101,000 | WTFOMFGOAO | $26,512 |
| #28 NLHE-H | $215 | $758,800 | Andre "Andreflk13" Figueiredo | $108,533 |
*Includes bounty payments