PartyPoker Nedeljnik: Bike Ride Tony G-a, delimo iPhone 4 i Ekskluzivan PokerNika reload bonus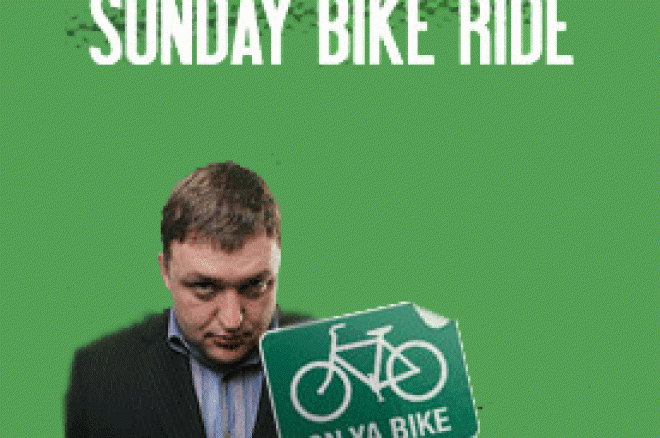 Pridruži nam se na PartyPokeruove nedelje sa Tony G-em na biciklu, uzmi besplatan bankroll i usput osvoji iPhone 4!
Tony G Sunday Bike Ride
Svake Nedelje u 08:00 ET možeš učestovati na specijalnom $1.500 turniru - Sunday Bike Ride. Ako izbaciš Tonija sa turnira, automatski osvajaš kartu za PartyPoker Monthly Million. Ulaz na turnir je svega 25 PartyPoena, a održaće se i tromesečno leaderboard takmičenje. Devet najboljih igrača na leaderboardu će imati priliku da igraju Sit & Go protiv Tony G-a ya $10.000 WPT paket!
Kako Tony objašnjava u svom blogu, turnir će biti začinjen klasičnim izjavama u vidu audio fajlova poput:
"I played it like a set! I played it like a set!"
"Two Kings, Baby!"
"You're a champion, send you back to Russia"
PokerNika Ekskluzivan $50 No Depozit Bonus
U slučaju da si propustio/la, PartyPoker ti daje novac za igru bez ijednog potrošenog dolara ili depozita. To znači da ti sa $50 promocijom ne treba ni jedan dolar da učestvuješ u ostalim promocijama i igraš poker!
Sve što treba da uradiš je da posetiš našuPartyPoker $50 Free Promo stranu za registraciju , pratiš sve korake i ne zaboraviš da upišeš bonus kod PNIKA25 i to je to. $25 ti stiže pravo na račun, a dodatnih $25 bonusa oslobadjaš igranjem. Treba da zaradiš samo 200 PartyPoker Poena kako bi oslobodio/la preostali bonus.
*** Promocija ne važi za igrače iz Srbije ***
Osvoji iPhone 4 na Facebooku
U Novembru / Studenom ćeš imatičetiri prilike da osvojiš iPhone 4 u seriji ekskluzivnih Facebook turnira. PartyPoker će svakog Utorka na svom Facebook zidu ostaviti post sa detaljima o freerollu. Sve što treba da uradiš je da ostaviš komentar u temi sa svojim PartyPoker nadimkom i zaradiš10 PartyPoena za kvalifikacije na turnir. Prelako!
Ne brini ako ne uspeš da odneseš turnir, jer Top 10 igračadeli nagradni fond od $200.
Priključi se PartyPoker Facebook strani ovde.
Kad smo već kod toga, dodaj i nas kao prijatelja na Facebooku!
Ekskluzivan PokerNika Reload Bonus
Ako si već registrovan/a na PartyPokeru preko nas, onda imamo sjajne vesti. U pitanju je ekskluzivan reload bonus za Pnews/PokerNika igrače, a dovoljno je napraviti depozit od minimalno $25 i iskoristiti bonus kod PNEWS50 za bonus od 100% do $50. Ne postoji bolji Party Reload Bonus od ovog!
Redovan PartyPoker bonus zahteva da zaradiš ekvivalent u PartyPoker Poenima od 10x vrednosti bonusa, a sa ovom ekskluzivnom ponudom je dovoljno zaraditi svega 3x vrednosti bonusa za besplatan keš!