PokerStars SCOOP Freerolls - $15.000 u Ekskluzivnim Satelitima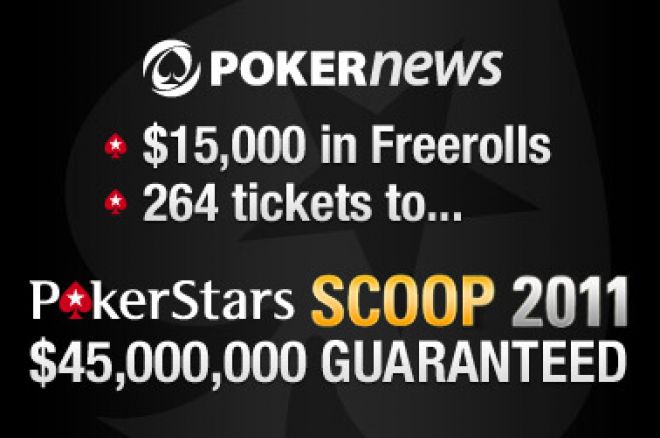 PokerNews vam predstavlja pet ekskluzivnih SCOOP freeroll turnira sa preko $15.000 u nagradama. Podelićemo 264 SCOOP karte, kvalifikacije su u Aprilu / Travnju, a prvi event startuje 7. Maja / Svibnja. Za kvalifikacije napravite download PokerStars-a, prilikom registracije ukucajte marketing kod POKERNIKA i skupite 75 VPP's u Aprilu / Travnju.
Jedan od najpopularnijih online poker festivala, Spring Championship of Online Poker, je ponovo sa nama na PokerStars-u u Maju / Svibnju. PokerNews hostuje pet ekskluzivnih freeroll turnira na kojima će se podeliti 264 SCOOP ulaznica u vrednosti od preko $15.000!
Svaki freeroll turnir će se održavati veče pre SCOOP event-a, a svaki od satelita će imati isti format kao i turnir za koji se kvalifikujete.
Napravite Download PokerStarsa
Ekskluzivni PokerNews SCOOP Freeroll Turniri
SCOOP #2 Freeroll: NLHE full-ring sa $1.872 u ulaznicama.
07.05. u 21:00 GMT, ID: 378677434 .
SCOOP #7 Freeroll: NLHE Heads-up sa $1.638 u ulaznicama.
09.05. u 21:00 GMT, ID: 378677435 .
SCOOP #30 Freeroll: PLO Hi/Lo sa $942 u ulaznicama.
18.05. u 21:00 GMT, ID: 378677436 .
SCOOP #37 Freeroll: NLHE 6-max sa $1.872 u ulaznicama.
21.05. u 17:00 GMT, ID: 378677437 .
SCOOP #38 Freeroll: NLHE full-ring (Main Event) sa $9.214 u SCOOP ulaznicama.
21.05. u 21:00 GMT, ID: 378677438 .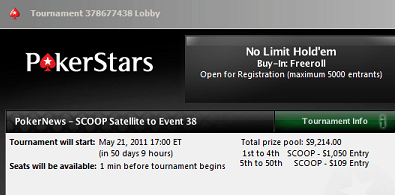 Za igru na svih pet freeroll turnira morate napraviti download PokerStarsa preko PokerNews-a i registrovati novi nalog pomoću marketing koda POKERNIKA i skupiti 75 VPP's do kraja Aprila / Travnja. Postojeći igrači koji već imaju nalog na PokerStarsu preko PokerNews-a su takodje pozvani na učešće pod uslovom da ispune VPP zahteve.
Iako se čini da je 75 VPP's mnogo, to je zapravomanje od $13 u rejku. U pitanju je ekvivalent 250 deljenja na za $1/$2 Holdem Limit stolovima, manje od 400 deljenja na $0.25/$0.50 NLHE stolovima ili $13 x $11 SNG.
Napravite download PokerStarsa već danas i skupite 75 VPP's za garantovane karte za pet PokerStars SCOOP satelita.
Ako naidjete na bilo kakav problem u vezi ove ili bilo koje druge naše promocije, molimo vas da nas kontaktirate putem našeg Sistema Korisničke Podrške.