Alec Torelli "Hand of the Day": Ispravan Ili Pogrešan Potez Protiv Daniel Negrana?
Alec Torelli
PokerNews Staff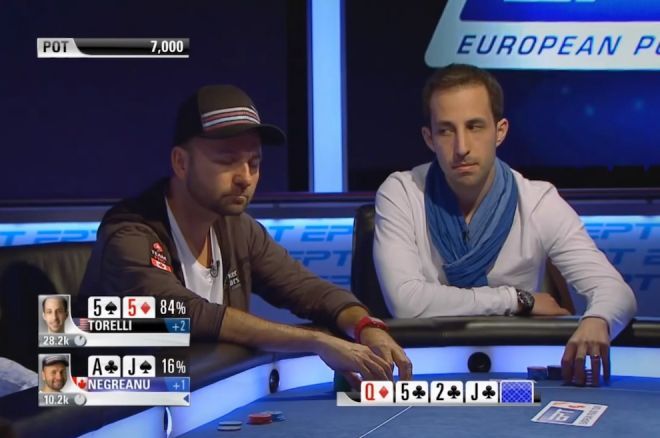 Alec Torelli je poker profesionalac iz Kalifornije, ali putuje svuda po svetu sa svojom suprugom, Ambrom. Torelli ima preko $1.5 milion zarade od live turnira (uključujući dva World Series of Poker finalna stola i dva World Poker Tour finalna stola) takodje ima preko $500,000 zarađenih u online turnirima. Izvan pokera on i njegova supruga raspolažu sa milionskim online biznisom sa kojim putuju širom sveta.
U Torellijevoj "Hand of the Day" seriji on analizira ruke koje je odigrao. U ovonedeljnoj epizodi Torelli nam predstavlja jednu od najzanimljivijih ruku koje je odigrao protiv Daniel Negreana.
* * * * *
Odlučio sam da Vam danas predstavim ruku koja je privukla najviše pažnje na European Poker Tour Grand Finalu u Monte Karlu.
Igrao sam protiv Daniel Negreana, jednog od heroja mog detinjstva. Ranije u toku dana dok smo sedeli za istim stolom našli smo se u velikoj konfrontaciji u jednom 3- betovanom potu, iz kojeg sam ja na kraju ipak izašao kao pobednik. U nastavku igre smo se zajedno preselili za sledeći sto, gde sam se ja sedeo neposredno sa njegove leve strane, a samim tim sam se i spremio za neizbežan vatromet!
Daniel ima jedan od najkreativnijih nekonvencionalnih stilova u pokeru. Upravo zato što radi poteze koje niko ne očekuje. U ruci, na samo njemu svojstven način, on koristi magiju koju samo on može da uradi kombinujući šarm i odlično planiranje! Ipak je jedan - Danijel Negreanu!
I pored svih meni poznatih činjenica o njegovoj igri, ja sam bio uveren da sam napravio ispravan potez. Pa dobro, bar ja imam svoju priču.
Uostalom, pogledajte video u nastavku.