Alec Torelli "Hand of the Day": Pogodili Ste Dva Para i Suočeni Ste sa Agresivnim Protivnikom
Alec Torelli
Balkan PokerNews Staff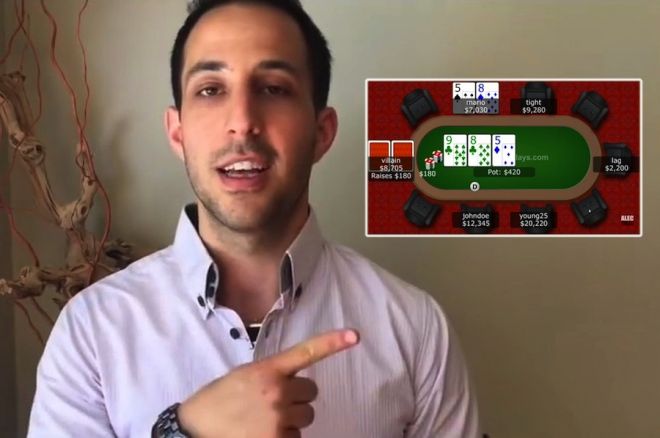 Alec Torelli je poker profesionalac iz Kalifornije, ali putuje svuda po svetu sa svojom suprugom, Ambrom. Torelli ima preko $1.5 milion zarade od live turnira (uključujući dva World Series of Poker finalna stola i dva World Poker Tour finalna stola) takodje ima preko $500,000 zarađenih u online turnirima. Izvan pokera on i njegova supruga raspolažu sa milionskim online biznisom sa kojim putuju širom sveta.
U Torellijevoj "Hand of the Day" seriji on analizira ruke koje je odigrao ili koje su mu čitaoci poslali. Danas analizira ruku odigranu na turniru koju je poslao igrač koji je flop-nuo jaku ruku ali se suočio sa protivnikom koji je bio agresivan čitalac a koji se našao u poodmakloj fazi satelitskog turnira.
* * * * *
Ruku koju analiziram u ovoj epizodi odigrao je jedan naš čitalac (Mario) koji se našao u nezgodnoj blind vs. blind poziciji na jednom low buy-in turniru.
Mario je bio na BB poziciji a pre njega je SB limp-ovao, on odigrava check sa
, a onda flopnu donja dva para. Mario je bio iznenađen, njegov protivnik je bet-ovao i bio agresivan, primoravajući ga na ne tako jednostavne odluke i pored toga što je imao dobru poziciju.
Predhodno predstavljenu situaciju i moju analizu njegove igre na svakoj postflop stanici pogledajte u videu u nastavku :
Ako želite da diskutujete ili želite savete o pokeru, pozivam vas da učestvujete u "AskAlec," mojoj novoj seriji na YouTube gde igrači koji su zainteresovani za poker mogu poslati pitanja i dobiti odgovore.
Ako želite vi da budete u nekoj od sledećih epizoda "Hand of the Day"? Jednostavno pošaljite vašu ruku Alec-u ovde.
Ostanite u toku sa dešavanjima u poker svetu - pratite nas na Twitter-u i Facebook-u.