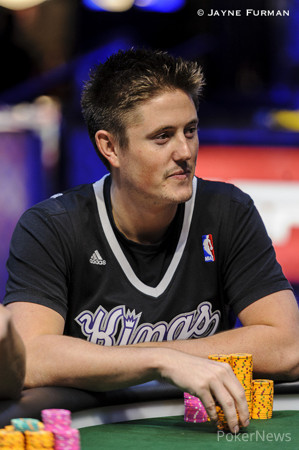 Today, Taylor Paur is sitting down at his second final table, after placing sixth in Event #11: $1,500 No Limit Hold'em - Six Handed. With fourteen World Series of Poker cashes and one bracelet, Paur is playing well, getting results and is on track for another big summer. We caught up with Paur as players went on break to see how his tables were going and how he feels to be at another final table.
PokerNews: This is your second final table this summer. Do you feel like a second bracelet's coming?
Taylor Paur: I have no idea. These shootouts are tough and ten-handed, now nine-handed, anything can happen. It's a lot about getting cards at this point and running good.
How were your tables coming into today?
My first table had a lot of really good players. I ended up beating Tony Gregg heads-up. He is - if not the best in the world - he is certainly one of the best in the world. I was just fortunate to run good against him and run good at that table overall.
Yesterday was pretty tough, I had Sylvain Loosli at my table who played pretty tough and he probably deserved to win. I just ran better than him and I was lucky to win. I'll take it, though.
So does catching cards and beating such great players give you some confidence coming into today?
Of course, it always makes you feel good to beat the best.
How does your shootout strategy differ from a traditional freeze out?
I wouldn't say I have a set strategy. I prefer shootouts in six-max, I just play and it feels more natural to me. Whereas full-ring - which is where we are now - is not as much as a strength for me.
How do you feel about your table today?
There are really good players. My friend Kory Kilpatrick, who's a boss and obviously Phil Galfond, who have won just a little money at poker. And there are other good players, too. It's a tough table.
How do you feel about your chances?
I feel good.