Phil Hellmuth has been eliminated after an up-and-down ride over the past little bit before finally being eliminated.
Jason Mercier relayed a couple hands to us involving Hellmuth and here's what he had to say. According to him, Jonathan Duhamel raised to 2,000 and Hellmuth reraised to 6,200 with 9,000 behind. Action folded to Randy Dorfman and he moved all in. Duhamel folded and then Hellmuth also chucked his cards into the muck.
On another hand, Mercier raised to 2,000, Juhan Lauttamus called and then Hellmuth called from the big blind. On the
flop with two clubs, Hellmuth checked, Mercier bet 2,600, Lauttamus called and then Hellmuth min-raised to 5,200 with 1,200 behind. Mercier folded and then Lauttamus moved all in. Hellmuth called with the
. Lauttamus held the
.
The turn was a
and the river another
. Neither was a club and Hellmuth's straight allowed him to double up.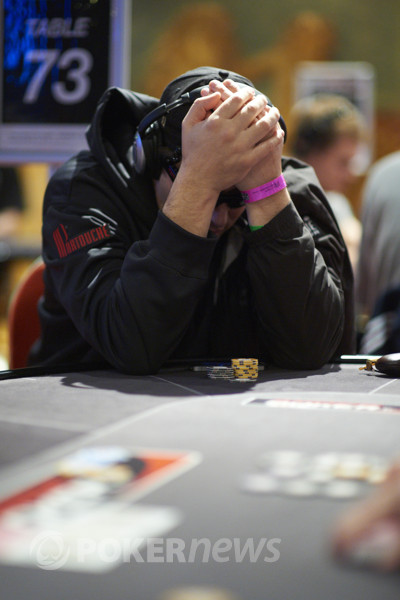 On his final hand, Hellmuth was all in preflop with the
versus Davidi Kitai's
. The board ran out
and Hellmuth headed for the exit. While walking away from the table, Hellmuth walked past Tony G. The two have had plenty of historical banter between them and Tony G asked, "You get biked? You leaving?" Hellmuth didn't respond directly, but was mumbling about never winning a race. "Wow, that's so far to come to go out so early," added Tony G.
Hellmuth was pacing and continued mumbling. Tony G rubbed some more salt in the wounds by telling Hellmuth he wasn't good enough for these stakes and that he needs to go back down to the smaller buy-ins. The players in the room got a good laugh from this and Tony G was just having fun at Hellmuth's expense. Hellmuth didn't engage in the banter and made his way out the door.