Well, things aren't getting any easier at Table 15. Patrik Antonius has just joined up in the three seat, sitting across the table from the murderers' row we mentioned earlier. Here's the lineup of familiar faces over there now:
| Seat | Player |
| --- | --- |
| 3 | Patrik Antonius |
| 5 | Sorel Mizzi |
| 6 | Bryan Devonshire |
| 7 | Sandra Naujoks |
| 8 | Brandon Cantu |
| 9 | Robert Mizrachi |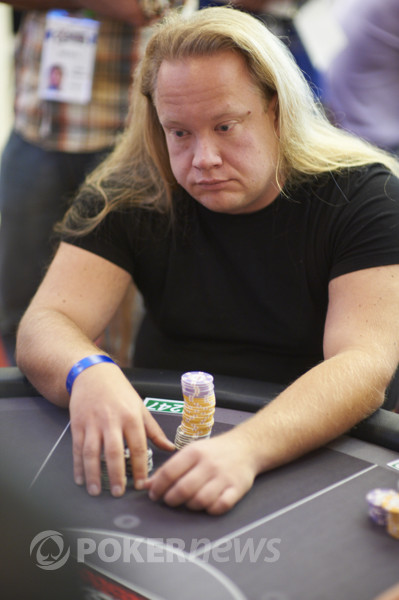 Not content to just take each others' chips, a few of them have pulled out the Euros for a little side action. Robert Mizrachi, Sorel Mizzi, and Bryan Devonshire have started up a game of "Lodden Thinks" -- or in this case, "Patrik Thinks". The first question was how much Antonius thinks Jani Sointula would need to shave his head. That's Sointula in the picture there, and you can't really tell, but that blonde hair goes a loooong way down his back.
Bryan Devonshire opened the betting at a €50,000, and Mizrachi made it 51. "Fifty-five," said Mizzi, and Devo quickly announced, "Sixty." The number continued to escalate as it was passed around the table, and it was Devonshire who broke through the triple-digit barrier. "All right, one hundred," he said reluctantly. Mizrachi, even more reluctantly, made it €101,000. Mizzi raised it one more time, and Devonshire and Mizrachi both liked the under on €102,000.
Antonius' answer?: €120,000.
"Oh, ship the money!" Mizzi yelled, winning round one. For his efforts, he gets to pick the next question: "How many people have touched this exact €50 bill?"