Trač ili jako dobar marketinški potez?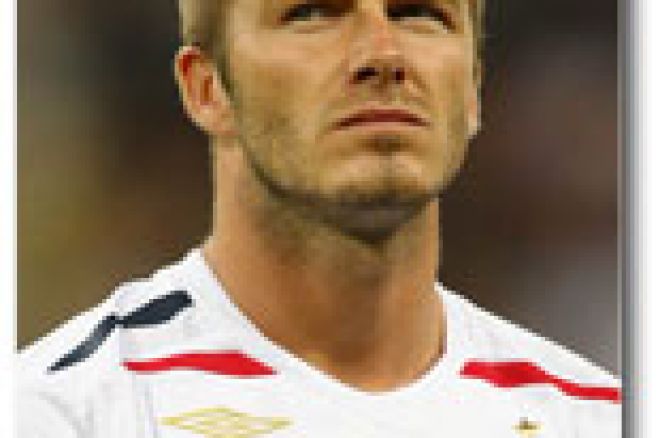 Izostankom fudbalera Engleske sa narednog Evropskog prvenstva u fudbalu, neke glasine su došle dotle da se priča kako bi zvezda gordog albiona David Beckham mogao uzeti učešće na World Series of Poker Europe. Popularnom Becks-u navodno je Harrah's Entertainment obezbedio wild card za učešće na turniru?!
Gledajući sa marketing strane, ovo bi nesumnjivo bio pravi potez, imajući u vidu koliku armiju fanova ima ovaj sjajni fudbaler, i koliko bi se ljudi na ovaj način zainteresovalo za poker…Posle bledog nastupa protiv Francuza, u britanskoj štampi se dosta spekuliše o tome da li bi Beckham trebao da ostane deo tima u kvalifikacijama za svetsko prvenstvo, koje počinju ovog leta. Od ranije se zna da su Engleski fudbaleri na lošem glasu zbog kockanja, Becks nije baš sjajan igrač pokera, ali se sa drugovima iz reprezentacije 1998.god Michaelom Owenom i Teddy Sheringhamom oprobao u ovim vodama. Ova dva pomenuta fudbalera stekli su popriličnu reputaciju kao poker igrači, dok se za Teddyja priča da je prava zver u ovoj igri, meč'u fudbalerima. Znajući da LA Galaxy daje platu Beckhemu mnogooo veću nego što je to ulaz od 10 000 funti za turnir, ali pre svega da sezona u USA počinje, a da je Davidu bitno da igra i bude u formi ako želi da zadrži poziv Fabija Kapela u Engleski tim, malo je verovatno očekivati da se Becks pojavi na WSOPE.
Naravno, kad se stvari sagledaju iz realnog ugla, sve ovo je samo obična žuta štampa…sve ovo oko Davida su glasine i prazne priče ali ko zna, možda se Becks još jednom zaljubio, ovaj put u veštine poker igre?!!