Biografija - Mike Matusow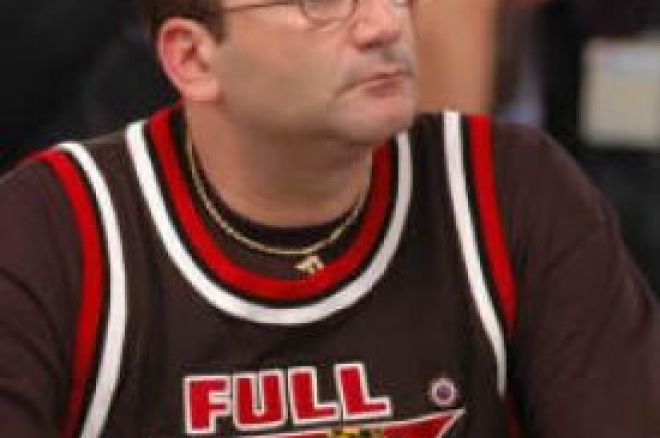 Ime: Mike Matusow
Nickname: The Mouth
Trenutno prebivalište: Las Vegas, Nev.
Datum rodjenja: April 30, 1968
Rodno mesto: Los Angeles, California, United States
U svakom sportu imate lošeg momka ili dva, a u pokeru je to Mike "The Mouth" Matusow. Iako kroz dobro poznato konstantno ismevanje i koškanje njegovih protivnika, neobuzdavanje svojih trenutnih emocija, nikako ne smete isključiti njegov pokerski talenat.
Matusow je prvo radio kao diler u Sam's Town Hotelu i Gambling Hall-u u Las Vegas-u. Iskoristio je to vreme proučavajući igrače i njihovu tehniku i tek posle dužeg vremena se usudio da krene na male turnire. Od tada, imao je uspeha u live game-u isto kao i igrajući online gde je poznat kao "mrpokejoke" na PokerStars-u i "Mike Matusow" na Full Tilt-u.
U njegove uspehe ubrajamo 2005 World Series of Poker Tournament of Champions, 2002 WSOP $5,000 Buy-in Omaha Hi-Lo Split Event i 1999 WSOP $3,500 Buy-in No-Limit Hold'em Event. U totalu, uspeo je da uč'e na 9 WSOP finalna stola kao i na ostalim uglednim turnirima, kao što je World Poker Tour (WPT) UltimateBet Aruba Classic u October 2004, gde je bio treći i osvojio $250,000.
Matusow-a ili psuju ili vole u poker svetu, sve zavisi sa kim razgovarate. Nekima su blebetava usta i histerična izderavanja simpatična i smešna, dok ostali odbijaju čak i da sede za istim stolom.
Kao i svako u svom životu, i Matusow je imao uspona i padova. Matusow se borio sa drogom i depresijom, čak je proveo 6 meseci u zatvoru zbog korišćenja droge na 2004 WSOP Main Event-u koji se prenosio na ESPN-u. Radio je na sebi i digao se ponovo na noge, i ne konzumira drogu više od 2 godine.
I njegov život nije jedino na čemu je radio, uprkos što je najbolji Omaha poker igrač na svetu i jedan od najboljih Texas Hold'em igrača, Matusow nastavlja da usavršava njegovu poker veštinu i ostaje jedan od najuspešnijih i nedorečenih igrača na svakom stolu za kojim sedne.
Turniri do sada sa zabeleženim rezultatima:
| | | |
| --- | --- | --- |
| Turnir | Mesto | Pobede |
| WPT Season 7, Foxwoods World Poker Finals | 6th | $124,048 |
| 2008 WSOPE, Event 4, No-Limit Hold'em Main Event | 18th | £36,200 |
| 2008 WSOP, Event 54, Main Event No-Limit Hold'em | 30th | $193,000 |
| 2008 WSOP, Event 51, H.O.R.S.E. | 57th | $2,959 |
| 2008 WSOP, Event 37, World Championship Omaha Hi-Lo Split.. | 5th | $138,063 |
| 2008 WSOP, Event 18, No-Limit 2-7 Draw w/re-buys | 1st | $537,857 |
| 2008 Special, Wynn Classic | 12th | $26,627 |
| 2008 Special, NBC Heads-Up Championship | 16th | $25,000 |
| WPT Season 6, Borgata Poker Open | 6th | $271,600 |
| WPT Season 6, Bellagio Cup III 2nd | 2nd | $671,320 |
| 2007 WSOP, Event 39, World Championship H.O.R.S.E. | 16th | $88,800 |
| 2007 WSOP, Event 36, World Championship Omaha Hi-Lo Split... | 15th | $15,134 |
| 2007 WSOP, Event 19, No-Limit Hold'em | 11th | $21,435 |
| WPT Season 5, World Poker Challenge | 23rd | $11,391 |
| 2007 Special, Wynn Classic | 5th | $76,824 |
| 2007 Special, NBC National Heads-Up Poker Championship | 9th | $25,000 |
| 2006 WSOP, Event 41, No-Limit Hold'em | 95th | $1,289 |
| 2006 WSOP, Event 13, No-Limit Hold'em | 7th | $89,010 |
| 2006 WSOP, Event 5, No-Limit Hold'em Short-Handed, 6/table | 33rd | $8,528 |
| 2005 WSOP, Event 42, No-Limit Hold'em Championship | 9th | $1,000,000 |
| 2005 WSOP, Event 2, $1,500 No-Limit Hold'em | 44th | $9,225 |
| 2004 WSOP, Event 33, World Championship No-Limit Texas... | 87th | $20,000 |
| 2001 WSOP, World Series of Poker Main Event - 2001 | 6th | $239,765 |
| 2004 WSOP, Event 15, $2,000 Limit Hold'em | 11th | $6,340 |