Još Uvek Ima Vremena za Kvalifikaciju na Ekskluzivne Satelite za PokerStars SCOOP Main Event!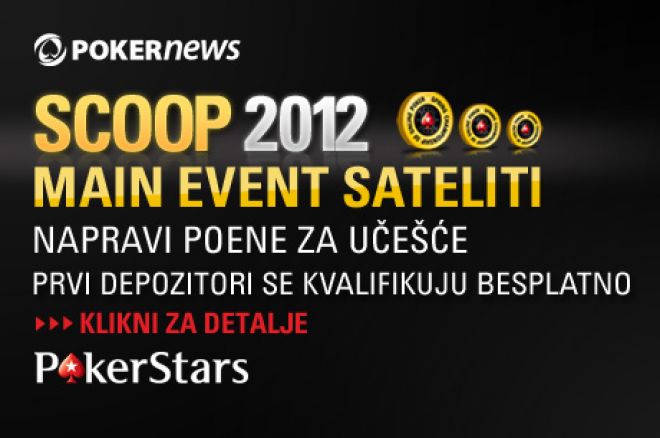 PokerStars Spring Championship of Online Poker je u toku, ali PokerNews i PokerStars još uvek dele tikete za Main Event! Download PokerStars sada da bi počeli!
2012 Spring Championship of Online Poker (SCOOP) počinje 6. Maja i traje sve do 20. Maja. PokerStars i PokerNews nude 100 tiketa za $109 Low SCOOP Main Event i 10 tiketa za učešće na $1,050 buy-in SCOOP Medium Main Eventu preko dva fantastična freeroll turnira, ali ima još manje od nedelju dana za kvalifikaciju!
PokerNews SCOOP ME Low Satelit

Tournament ID — 549482141
Vreme — 18. Maj @ 14:30 ET
Nagrada — Top 100 finišera dobija $109 turnirske tikete za SCOOP-40-L Main Event Low (ID#2012050401)
Na prvom freerollu, top 100 finišera će osvojiti $109 turnirski tiket za Low SCOOP Main Event na kom je zagarantovani nagradni fond od $1,000,000! Kako se možete kvalifikovati? Ako ste novi igrač, jednostavno napravite depozit koristeći PokerNews link izmedju sada i 15. Maja da biste bili nagradjeni tiketom za freeroll. Ako ste postojeći igrač koji se registrovao preko PokerNewsa, takodje možete učestvovati samo treba da napravite 25 VPPs tokom istog perioda da bi bili nagradjeni sa tiketom.
Drugi freeroll je otvoren za postojeće igrače koji zarade samo 200 VPPs izmedju sada i 15. Maja. Bilo koji PokerNews igrač koji ispuni zahteve će dobiti tiket za učešće na freerollu na kom najboljih 10 igrača dobijaju po $1,050 tiket za Medium SCOOP Main Event koji ima zagarantovanu nagradnu sumu od $1,500,000!
PokerNews SCOOP Main Event Medium Satelit

Tournament ID — 549483634
Vreme-- 18. Maj 18 @ 14:30 ET
Nagrada — Top 10 finišera dobija $1,050 turnirski tiket za SCOOP-40-M Main Event Medium (ID#2012050402)
"Low" satelit treba da ima najmanje 100 igrača da bi se održao dok "Medium" satelit zahteva najmanje 10 učesnika. U suprotnom, PokerStars će otkazati turnire.
Otvorite PokerStars račun odmah i setite se da upisivanjem Marketing Koda: "POKERNIKA" i Bonus Koda: "STARS600" imate mogućnost da preuzmete 100% do $600 bonus na prvi depozit, učestvujete na PokerStars SCOOP-u, i takodje stičete pravo na sve buduće promocije koje imamo na PokerStarsu!
Ostanite u toku sa dešavanjima u poker svetu - pratite nas na Twitter-u i lajkujte na Facebook-u.