EPT Grand Final ME Dan 5: O'Dwyer Predvodi Finalni Sto sa Četiri Team Pro PokerStars Igrača, Goran Mandić Nesrećno Eliminisan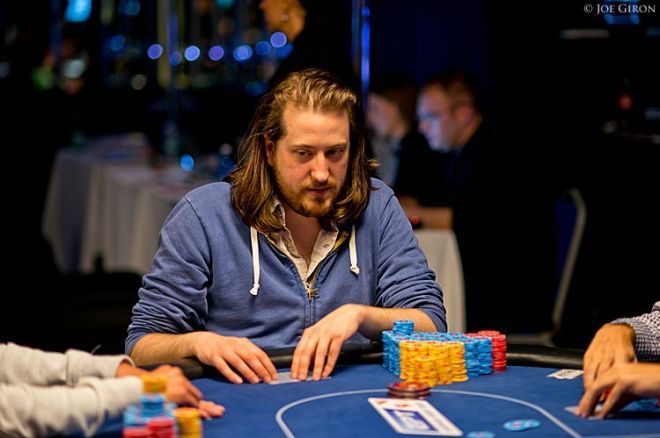 U Subotu je igran Dan 5 na PokerStars i Monte-Carlo® Casino European Poker Tour Grand Final Main Eventu na kojem je nastupilo 16 igrača koji su igrali do oficijalnog 8-handed finalnog stola. Vodeći je Steve O'Dwyer, koji je bio i chip leader na EPT London Main Eventu na finalnom stolu. O'Dwyer ima zalihu od 4,452,000, prati ga Matchbook CEO Andrew Pantling sa 4,180,000, a pored njih finalni sto čine Team PokerStars Pro igrači Daniel Negreanu, Jake Cody, Jason Mercier, i Johnny Lodden, Noah Schwartz, i Grant Levy. Nažalost Goran Mandić nije uspeo da obezbedi učešće na finalnom stolu kada ga je na 15. mestu(€37,000) nesrećno eliminisao Steve O'Dwyer.
Osam finalista zajedno u karijeri zaradili su $39 miliona samo od live turnirskih zarada, a jedini koji nije zaradio milion dolara je Pantling, koji je nekada bio član online strašne ekipe igrača.
U slučaju pobede, Mercier ili Cody postali bi prvi igrači u istoriji koji su osvojili dve EPT Main Event titule. Dok bi Negreanu u slučaju pobede postao novi član "Triple Crown" kluba(WSOP, EPT i WPT titule)
Evo Finalnog Stola sa Zalihama Igrača:
| Seat | Player | Country | Chips |
| --- | --- | --- | --- |
| 1 | Jake Cody | UK | 1,633,000 |
| 2 | Jason Mercier | USA | 824,000 |
| 3 | Andrew Pantling | Canada | 4,180,000 |
| 4 | Grant Levy | Australia | 786,000 |
| 5 | Steve O'Dwyer | Ireland | 4,452,000 |
| 6 | Daniel Negreanu | Canada | 1,581,000 |
| 7 | Noah Schwartz | USA | 1,068,000 |
| 8 | Johnny Lodden | Norway | 1,402,000 |
Dan 5 počeo je sa dve back-to-back brutalne eliminacije. Holandjanin Mateusz Moolhuizen eliminisan je na 16. mestu kada je radio 3-bet shove na raise sa kraljevima. Levy, koji je samo pratio inicijalni raise, platio je all in sa kec-jack, i flopnuo je keca.
Samo par delenja potom za istim stolom, O'Dwyer radi 5-bet shove na 4-bet Gorana Mandića, koji snap-calluje sa žandarima. O'Dwyer je bio jako iza sa ručnim trojkama, ali flopnuo je backdoor straight draw a zatim po najgorem scenariju izlazi mu perfect-perfect za straight, i nesrećno Mandić je OUT na 15. mestu za €37,000. Sve čestitke Goranu od Balkan.PokerNewsa na ostvarenom rezultatu i prikazanoj igri.
O'Dwyer je od ove eliminacije preuzeo chip lead sa 2,370,000 i posle toga išao je samo više.
American Andrew Lichtenberger was the next player to exit. Lichtenberger check-raised all in on a very connected, three-club board against Negreanu, who tank-called with the nut-straight. Lichtenberger turned over two black aces, and was unable to make a flush on the river. He was eliminated in 14th place, earning €47,000.
Team PokerStars Pro Victor Ramdin couldn't get much going on the feature table, and was eventually eliminated in 13th place. He open-shoved from early position with two black nines, only to be called by Schwartz who had two kings. Schwartz made quads for kicks and giggles, and Ramdin was off to the cage to collect €60,000.
Clyde Tjauw Foe also struggled to get things going on the feature table, and eventually jammed from under the gun with four-three off suit. Negreanu called with ace-king in the cutoff, held, and eliminated Foe in 12th place (€60,000).
John Juanda, Indonežanac petostruki osvajač World Series of Poker narukvice je na Levelu 25 eliminisan. Juanda je radio 4-bet shove za 1.1 million sa ace-king, a O'Dwyer je ispratio sa crvenim desetkama, koje su izdržale i Juanda jes out na 11. mestu za €60,000.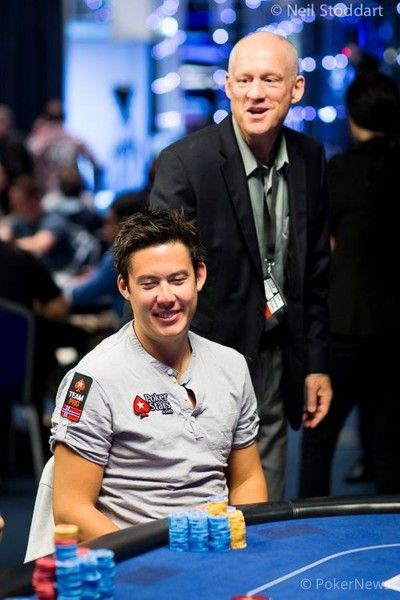 Posle Juandaine eliminacije, O'Dwyer, Lodden, i Vasili Firsau odigrali su bez sumnje najbolju ruku na turniru. Na blindovima 15,000/30,000/4,000, Firsau otvara do 125,000 sa cutoff, i ostaje sa svega 60,000 u zalihi. Lodden objavljuje all in za oko 800,000 na small blindu, a O'Dwyer prati, a Firsau dodaje ostatak svojih žetona.
Firsau:

Lodden:

O'Dwyer:
Diler je okrenuo flop
, posle kog je Mercier ustao sa svog mesta i krenuo ka feature stolu da objavi duplu eliminaciju za svojim stolom. Ali nije znao šta mogu turn i river da donesu!!!
i
respektabilno daju Loddenu i Firsau potrebne oute.
"O Bože! Jel ovo stvarno?" Mercier je rekao. "Ja sam tip od procenata, i kada vidim 99% mislim da je to pobednička ruka."
Firsau ipak nije izdržao dugo i eliminisan je na 10. mestu za €76,000.
Igrao se tada finalni sto, ali potrebana je bila još jedna eliminacija za oficijalni finalni sto. Nije dugo trajalo i bubble je bio poznat. Freddy Deeb open-shovuje svojih 9 big blindova sa kralj-dama, a Pantling ga je ispratio sa big blinda sa jack-deset u listu. Pantling je flopnuo desetku, a turn i river nisu ništa promenili, i Deeb je OUT sa €76,000 za 9. mesto.
Finalni sto startuje u Nedelju od 13:00 CET, ali pokrivanje neće početi pre 14:00 CET pošto će akcija biti streamovana sa vidljivim kartama. Budite sutra sa nama a PokerNews Live Reporting Tim doneće nam sve zanimljivosti i važne trenutke sa EPT finalnog stola, reklo bi se svih vremena.
Ostanite u toku sa dešavanjima u poker svetu - pratite nas na Twitter-u i lajkujte na Facebook-u.