Sunny Jung Osvojio 2013 PokerStars.net APPT Macau ACOP Main Event za HK$4,752,000
Tim Duckworth
PokerNews Staff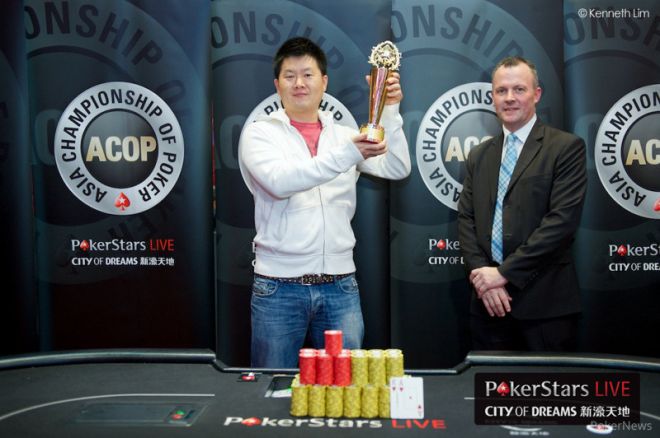 Prošla je sedmica pokera, ali 2013 PokerStars.net Asia-Pacific Poker Tour Macau Asia Championship of Poker (ACOP) HK$100,000 Main Event je zaključen sa koreanskim Sunny Jungom koji je krunisan kao šampion. Jung i Hong Kongški Devan Tang su se vratili na improvizovani Dan 6 da bi završili heads-up meč, i trebalo im je više od pet sati da Jung osvoji titulu i HK$4,352,000 nagradu za prvo mesto (oko $560,000).
2013 ACOP Main Event Finalni Sto Rezultati
| Mesto | Igrač | Zemlja | Nagrada |
| --- | --- | --- | --- |
| 1st | Sunny Jung | Korea | HK$4,352,000 |
| 2nd | Devan Tang | Hong Kong | HK$3,667,000 |
| 3rd | Zifan Zheng | China | HK$1,980,000 |
| 4th | Yat Wai Cheng | China | HK$1,485,000 |
| 5th | Yoshitaka Okawa | Japan | HK$1,188,000 |
| 6th | Jonathan Depa | USA | HK$990,000 |
| 7th | Randy Lew | United States | HK$792,000 |
| 8th | Chenxiang Miao | China | HK$594,000 |
| 9th | Chane Kampanatsanyakorn | Thailand | HK$495,000 |
Pre nedelju dana, Dan 1 let je video 203 igrača koji su okušali svoju šansu na ACOP Main Eventu, druga publikacija, koji je prošle godine osvojen od strane kineza Xing Zhou inauguralne godine.
Sa jednim od najvećih buy-inova u regionu sa neverovatno velikodušnom i sporom strukturom, gomila igrača iz celog sveta je napravila izlet, ali to nije usporilo brzinu igre kako su eliminacije letele tokom prvih par dana. U novac je ušlo 25 igrača i to krajem Dana 3, i da je igra završena na Danu 4, bilo bi samo pitanje vremena pre nego što bi stigli do finalnog stola.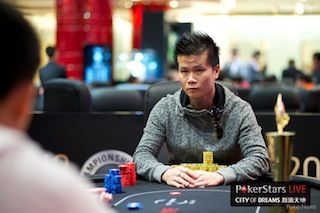 Taj finalni sto od devet bi video prosečni stack od neverovatnih 112 big blindova što znači da su igrači, staff i medija imali dug dan. Brze eliminacije su se desile za Chane Kampanatsanyakorna (9) i Chenxiang Miao (8) koji su prvi izleteli pre PokerStars Team Online člana Randy "nanonoko" Lew koji nije bio u mogućnosti da osvoji drugi žreb Macau triple crown jer je pao na sedmom mestu. Odatle je počela izcrpljujuća borba za igrače kako su se čipovi rolali napred nazad sa retkim eliminacijama jer su Jonathan Depa (6), Yoshitaka Okawa (5), Yat Wai Cheng (4), i Yifan Zheng (3) svi pali pre nego što je počela heads-up borba izmedju Junga i Tanga koja je trajala oko 45 minuta pre nego što je zaustavljena igra za taj dan.
Vratili su se u nedelju, i Jung je držao malu prednost naspram Tanga, ali oba igrača su imali stackove od 134 i 120 big blindova, respektivno. Akcija je počela sa Jungom s, koji je mučio Tanga kada je gurnuo njegovu granicu sa 2:1 prednošću. Iako je Tang uspeo malo da se povrati, Jung je prešao u prednost od 3:1 kada su njegovi
sastavili four-flush na
boardu pre nego što je to vodjstvo prešlo u prednost od 8:1. Srećom za Tanga, on je počeo da se bori što je izgledalo da prvi put uzvraća u toku dana i polako se vraćao u heads-up meč. Miks agresije i uz pomoć nekih karata Tang polako uspeva da obezbedi vodjstvo kada su njegove
nadigrale Jungove
na
boardu u 4bet potu.
Njih dvoje su zatim razmenjivali potove napred nazad veći deo devedesetominutnog nivoa pre nego što je Jung počeo da vuče i prešao u vodjstvo od 3:1 pre nego što je došlo do finalne ruke. Sa Tangom koji je počeo ruku sa oko 35 big blindova, raise-uje do 100,000 (na 25,000/50,000 blindovima) i Jung 3-betuje do 300,000. Tang do 500,000 i Jung instant gura all in sa Tangom koji pravi call držeći
da bi bio dominiran od strane Jungovih
. Sa prvim call-shove-om u heads-up igri,
board čita Jungovu dominaciju koja se pojačava u flush da bi postao krunisani drugi ACOP Main Event Champion i osvojio nagradu od HK$4,352,000.
PokerNews čestita Sunny Jungu na fantastično odigranom turniru kako je pokazao odličnu agresiju i koristio pritisak kada je dostigao finalni sto odnosno heads-up igru, da bi eventualno postao krunisani šampion na 2013 Asia Championship of Poker HK$100,000 Main Eventu!
*Fotografije Kenneth Lim Photography i zahvalnost PokerStars LIVE Macau.
Kvalifikujte se za APPTs, EPTs, WSOPs, UKIPTs i još mnogo live turnira tako što ćete se registrovati na PokerStars još danas!
Ostanite u toku sa dešavanjima u poker svetu - pratite nas na Twitter-u i lajkujte na Facebook-u.