PokerStars.com EPT Prag Main Event Dan 3: Ludovic & Schemion Predvode Poslednjih 61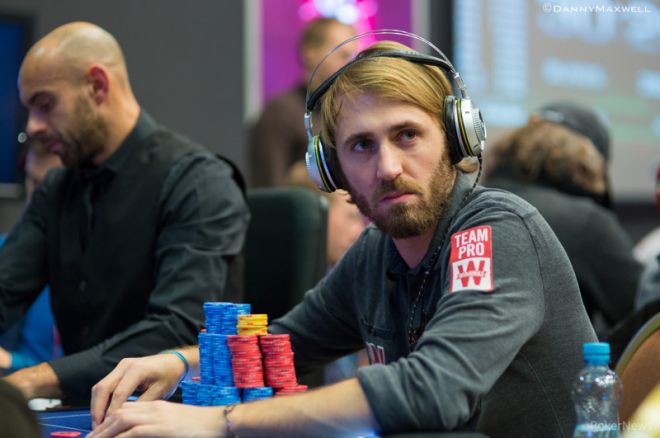 Season 10 European Poker Tour nastavljen je u Nedelju sa Dan 3 akcijom EPT10 Prag Main Eventa. Prag je bio prethodnih dana domaćin najvećeg igranog EPT Prag ME u istoriji (1,007 igrača), a na Danu 3 zaigralo je 189 igrača od kojih je samo 61 uspeo da se plasira dalje u turniru.
Tokom pet 90-minutnih levela igre, bubble za nagrade bio je kada je u igri bilo 151 igrača. Do kraja večeri, Ludovic Lacay je isakupio najviše čipova tako da je on čip lider sa 1.7 milion, a konkurenciju mu prave Ole Schemion i Jonathan Little.
Dan 3 Top 10 Chip Counta
| Place | Player | Count |
| --- | --- | --- |
| 1 | Ludovic Lacay | 1,700,000 |
| 2 | Julian Track | 1,187,000 |
| 3 | Lasell King | 1,075,000 |
| 4 | Ole Schemion | 1,030,000 |
| 5 | Ihar Soika | 957,000 |
| 6 | Ciaran Burke | 889,000 |
| 7 | Ana Marquez | 870,000 |
| 8 | Stephen Chidwick | 869,000 |
| 9 | Georgios Sotiropoulos | 839,000 |
| 10 | Martin Wiklund | 747,000 |
Akcija je nastavljena sa Levelom 15 (1,500/3,000/400), i nije se dugo čekalo da neko od poznatijih ispadne. Već u prvoj ruci koja je podeljena Team PokerStars Pro David Williams bio je skoro pred eliminacijom kada su njegovi ručni kraljevi izgubili bitku na riveru kada je protivnik upario svog keca.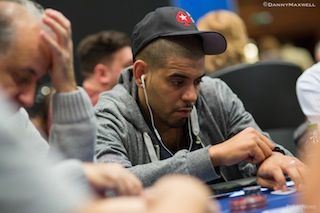 U sledećoj ruci Williams je bio all in posle početnog otvaranja, bio je sa
izdomoniran od strane
. Board je bio
i Williams je napustio turnir praznih ruku.
Ostali koji su ostali praznih džepova su Martin Staszko, Erik Scheidt, Marcin Wydrowski, Sam Cohen, Rui Sousa, Bolivar Palacios, i Alexander Lakhov, koji je bio i bubble boy.
Od tada počele su beže da se redjaju eliminacije, medju njima bili su EPT10 Player of the Year vodeći Thomas Muhlocker (149th - €8,600), Kitty Kuo (144th - €8,600), Paul Volpe (143rd - €9,000), Sylvain Loosli (140th - €9,000), Taylor Von Kriegenbergh (126th - €9,000), Dominik Nitsche (124th - €9,000), Team PokerStars Pros Henrique Pinho (109th - €9,900) i Bertrand "ElkY" Grospellier (106th - €9,900), i Amir Lehavot (105th - €9,900).
Na Levelu 17 (2,500/5,000/500), Britanski pro Stephen Chidwick eliminisao je Lehavota, 2013 World Series of Poker trećeplasiranog. Chidwick je radio 4-bet do 65,000 sa small blinda a Lehavot 5-bet do 120,000 sa buttona, Chidwick je odgovorio sa 6-bet shove a Lehavot je ispratio sa 348,000. Chidwick ga je pokrivao a bio je i favorit u ruci.
Chidwick:

Lehavot:
Bio je to veliki flip za čip lid, a prema PokerNews Odds Calculator, Chidwick je bio 56.55% favorit dok je Lehavot imao 43.03% šanse.
flop nije doneo pomoć Lehavotu, i bio je 3-1 u zaostatku. Turn
dovelo ga je samo na 13.64%, i trebao mu je na riveru ili kec ili kralj. Sa druge strane, Chidwick jesada imao 86.36% šanse, i na kraju je
river ičime je sklopio full house.
Od tada su ispadali redom, EPT10 Barcelona Super High Roller šampion Vitaly Lunkin (102nd - €9,900); Full Tilt Poker Ambassador Dermot Blain (99th - €9,900), WSOP Europe Main Event šampion Adrian Mateos (93rd - €11,100), Team Online igrači i poslednji članovi Marc-Andre Ladouceur (81st - €11,100); i Dan 2 čip lider Walid Bou Habib (74th - €11,100).
Još dva igrača su ispali pre kraja igre, a oni su Team PokerStars Pros Eugene Katchalov i Jonathan Duhamel.
Katchalov je ispao na Level 19 (4,000/8,000/1,000) kada je bio all in za 107,000 sa rane pozicije a Lasell King gurnuo je svoj all in sa small blinda. King, koji je osvojio Poker EM CAPT u Badenu prošlog Oktobra za €92,035, okrenuo je
koji su bili ispred Katchalovih
. Board ej bio
i nije doneo pomoć Katchalovu koji je leiminisan na 71. mestu. Duhamel, koji je bio poslednji Team PokerStars Pro tada u polju, ga je sledio na 65. mestu.
Dan 4 počinje u Ponedeljak u podne, a u isto vreme startuje i €10,000 High Roller. Naravno PokerNews Live Reporting Team donosi vam akciju sa oba eventa.
U medjuvremenu pogledajte kako poker pro igrači pevaju:
Ostanite u toku sa dešavanjima u poker svetu - pratite nas na Twitter-u i lajkujte na Facebook-u.