Poker Proovi, Zvezde i Wall Streeteri Pojačali za $910K Nedavni WPT Dobrotvorni Poker Turnir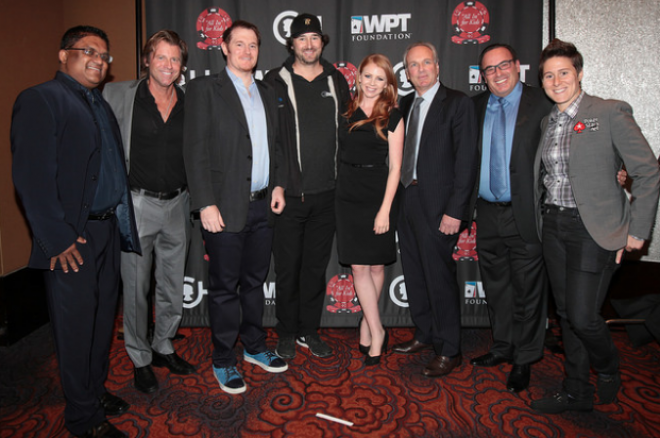 Lepo je kada ljudi imaju prostora da se zabavljaju uz svoju profesiju, druže i usput nekom pomognu. Prošlog vikenda, to su upravo činili tamo negde daleko, ali da vidimo kako je to izgledalo. U Mandarin Oriental u New York Sitiju su ugostili Dečiju Bolnicu Filadelfije - The Children's Hospital of Philadelphia® (CHOP) i World Poker Tour Fondaciju "All In" za Decu, sa Poker Turnirom, koji je prikupio $910,000 Odeljenju za Alergije na Hranu u CHOP.
Event, koji je sniman za buduće WPT epozode, je bio sastavljen od miksa lidera poker industrije, poznatih i sportskih zvezda. Predstavnici prve grupe su bili 13-puta World Series of Poker osvajač narukvice Phil Hellmuth; WPT domaćini Lynn Gilmartin i komentator Vince Van Patten; event ko-osnivač Dan Shak; Team PokerStars Pro Vanessa Selbst; WPT Season IX Player of the Year Andy Frankenberger; partypokerov Jamie Kerstetter i Scott Baumstein; i Rounders ko-kreator Brian Koppelman.
Što se tiče poznatih ličnosti i sportskih zvezda, oni su ovde predstavljeni od strane New York Giants igrača Justina Pugh; Philadelphia Eagles petostruki Pro Bowler Mike Quick; trostruki NHL Stanley Cup šampion i New Jersey Devils legenda Ken Daneyko;Philadelphia Phillies Broadcaster Gregg Murphy; Rality TV zvezda Evan Starkman; i producent Burton Richie.
Medjutim, na kraju je event, koji je takodje nosio dobrotvornu aukciju, osvojen od strane Lance Breitsteina iz Ramsey, New Jersey. Ostali za finalnim stolom su uključivali Frank Volpea (10.), Dan Shak (5.), Phil Hellmuth (3.) i Dan Silvers (2.).
Evo pregleda nekih fotografija sa eventa zahvaljujući WPT, prema kojima deluje da su se ljudi lepo zabavili uz korisno delo:
Ostanite u toku sa dešavanjima u poker svetu - pratite nas na Twitter-u i lajkujte na Facebook-u.