2015 SCOOP Finalni Izveštaj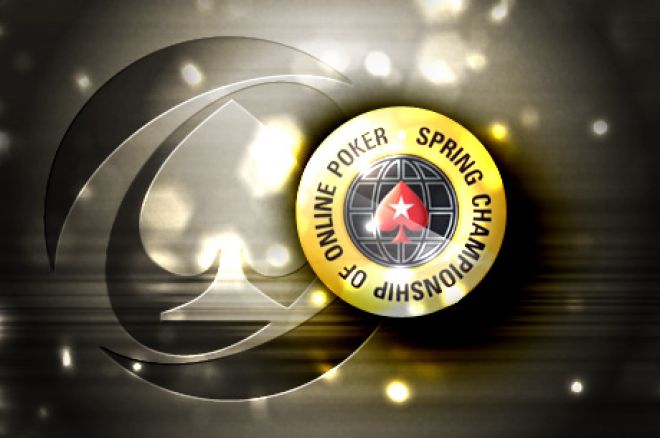 2015 Spring Championship of Online Poker (SCOOP) je završen u ponedeljak sa pobedom Italijana Mustapha "lasagnaaammm" Kanit na $10,300 SCOOP High Main Eventu za $1,304,720.
Ova pobeda je samo dodata na već neverovatan mesec za Kanita, s' obzirom na njegovu skorašnju pobedu na EPT11 Grand Final €50,000 Super High Roller, za €936,500.
U isto vreme se održavao i SCOOP-Medium $1,050 Main Event i SCOOP-Low $109 Main Event. Tom "tollgate" Grigg je osvojio $1,050 event za $609,206.86 nakon što se složio da u heads up-u napravi dil sa Kanađaninom "Azn1nvas1on", dok je Makedonac "apostolis20" pobedio na $109 event-u nakon što je pristao u heads up-u na dogovor sa Ukrajincem "CrazySeyza", i keširao je $203,176.89.
Sa 138 event-a na SCOOP-u raspored je podeljen na 46 različitih tipova. Svaki event je imao low, medium i high buy-in turnir, što je dalo igračima mogućnost da igraju bilo koji limit svaki dan. Sa 569,089 učesnika, SCOOP je formirao fond od neverovatnih $76,530,051.72. Ovo je skoro duplo od $40,000,000 prize pool koji je bio garantovan od strane PokerStars-a.
Ovogodišnji SCOOP je priredio mnoge sjajne trenutke i dostignuća od strane nekih od najboljih igrača.
Tim PokerStars Pro Jason Mercier je keširao na 22 različita SCOOP event-a, na finalnom stolu je bio pet puta i osvojio je tri različite titule. Ovaj neverovatan nastup je bio dovoljan za Mercier-a da osvoji Overall Leaderboard Player of the Year, zajedno sa 2016 PokerStars Caribbean Adventure paketom i $10,000 u kešu. Rus "vovtroy" je završio na drugom mestu na leaderboard-u nakon što je keširao na 31 različit event.
Calvin "cal42688" Anderson je postavio nov rekord osvojivši njegov sedmi SCOOP event. On je prethodno bio izjednačen sa Shaun "shaundeeb" Deeb sa šest SCOOP titula pre početka festivala. Njih dvojica su trenutno izjednačeni sa sedam COOP titula, gde im se računaju pobede na World Championship of Online Poker (WCOOP), Turbo Championship of Online Poker (TCOOP), i SCOOP.
Izuzetno, sedam igrača je uspelo da osvoji po dva različita SCOOP event-a ove godine, a oni su "dragonwarior", Luke "lb6121" Schwartz, "marek_heinz", Nicolas "niccc" Chouity, Woody "plplaya" Deck, Victor "Puropoker123" Lemos, i Michael "SirWatts" Watson.
2014 WCOOP Main Event pobednik Fedor "CrownUpGuy" Holz, Sorel "zangbezan24" Mizzi, Mohsin "sms9231" Charania, James "Andy McLEOD" Obst, Christopher "NigDawg" Brammer, Stefan "mindgamer" Jedlicka, Dzmitry "Colisea" Urbanovich, Sam "Str8$$$Homey" Greenwood, Emil "Maroonlime" Patel, i Ankush "pistons87" Mandavia su neki od poznatih igrača koji su osvojili SCOOP event ove godine.
Igrači iz Kanade su rekorderi sa 21 SCOOP titulom, a prate ih igrači iz Velike Britanije sa 15 event-a. Igrači iz Rusije su rekorderi sa najviše ulaza 59,386 i sa najviše keširanja na turnirima 7,841. Igrači iz Velike Britanije su drugi po broju ulaza sa 53,308 i drugi po broju keširanja sa 7,003.
Regionalni SCOOP Šampioni
Od predstavnika balkanskog područja, najveću isplatu je imao je Andrija "cynicalfish" Martić
za osvojeno treće mesto na SCOOP-45-M 1,050 $ Main Eventu uzeo nagradu od 349,635 $. Njegov sunarodnik "zelja" ostvario je trijumf na turniru SCOOP-36-M: $109 NL Hold'em, $300K Gtd za nagradu od $36,109. Pored njih i trojica makedonskih predstavnika odneli su pobede na SCOOP turnirima. Već smo pomenuli Apostolisa "apostolis20" Bechrakisa koji je trijumfovao na $109 event-u nakon što je pristao u heads up-u na dogovor sa Ukrajincem "CrazySeyza", keširao je $203,176.89, "Re8uZ" trijumfovao na SCOOP-30-M: $109 NL Hold'em, $300K Gtd za nagradu od $84,576.87, a Nino "KidPokerSLO" Smolović je u specijalnom 5-Card PL Omaha turniru sa buy in-om od $7,50 savladao polje od 4.116 ulaza za nagradu od $8,914.71.
Čestitke za ove velike rezultate!
Ostanite u toku sa dešavanjima u poker svetu - pratite nas na Twitter-u i Facebook-u.