Cord Garcia Šampion Najvećeg Live Poker Eventa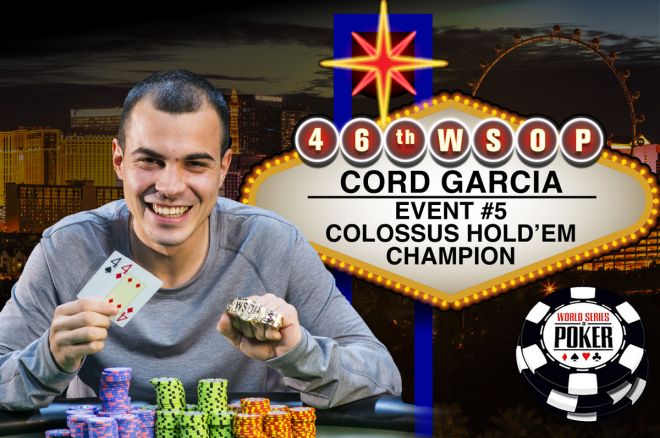 World Series of Poker ispunio je snove poker igrača iz Hjustona! Cord Garcia je šampion 2015 World Series of Poker Event #5: THE COLOSSUS $565 No-Limit Hold'em, najvećeg live turnira u poker istoriji. Do svoje prve WSOP narukvice i nagrade od vrtoglavih $638,880 Garcia je došao nadigravši polje od 22,373 ulaza.
"Osećam se ispunjeno. Osećam se zadovoljno. Savladati najveće polje u poker istoriji je velika stvar," rekao je pobednik. "Ovo je moj proboj. Ja verujem u sebe i znam da mogu da ostvarim i mnogo bolje rezultate."
Pre Colossus-a, Garcia je u svojoj poker biografiji imao uglavnom isplate na nekim manjim turnirima širom njegove države sa buy-in-ovima nižim od $1,000. Njegova najveća isplata i ujedno jedini event na kojem je bio na ivici velikog rezultata je 7. mesto na 2012 The River $2,000 Main Eventu u Winstar Casinu u Oklahomi, za nagradu od $83,640.
"Ovo je svakako bila velika šansa za mene. O turniru sam razmišljao svaki dan. " rekao je nakon pobede.
"Prvi dan sam završio sa 20 startnih stack-ova," objašnjava on. "Znao sam da sam na dobrom putu i sa lepim šansama otpočeo Dan 2 tokom kog je eliminisano oko 5,000 ljudi. Razmišljao sam da moram nekako da dobijem te chip-ove i da samo na taj način mogu da uspem. Moja strategija je bila samo da pokušam da održim stack do narednog dana, zatim da stignem i do sledećeg i tako dalje."
U isplate je ušlo 2,241 igrača, a organizatori WSOP-a su objavili i još neke statističke podatke vezane za ovaj, najveći live turnir ikada THE COLOSSUS. Event je zapravo privukao 14,284 jedinstvenih ulaza i 5,664 ponovnih ulazaka u ovaj World Series of Poker event. Iako su većinu učesnika činili državljani SAD-a, učešće su uzeli igrači iz 98 različitih država, što predstavlja još jedan rekor za WSOP.
"Sve to je veoma bitno za poker," kaže Garcia. "Za turnirsko tržište je zančajno da što više ljudi koji su van poker sveta igraju poker . Bio sam zaista impresioniran sa odzivom, a činjenica je da je bilo mnogo prosečnih, normalnih ljudi koji su učestvovali na ovom turniru. To je ono što je bitno. To je ono što održava ovu igru."
Garcia nakon proslave svog najvećeg uspeha planira da igra i Event #14: $1,500 No-Limit Hold'em Shootout. Za leto ima u planu da odigra još dosta evenata, a jedan od ciljeva mu je i osvajanje titule WSOP Player of the Year.
"Svi mi igramo da bi osvojili mnogo novca i naravno da je super osećaj kada možeš sebi da priuštiš ispunjenje nekih životnih snova" , rekao je pobednik WSOP Colossusa.
Ostanite u toku sa dešavanjima u poker svetu - pratite nas na Twitter-u i Facebook-u.