PokerStars Najavio SCOOP 2017 Raspored
Katie Callahan
Frank Op de Woerd
Balkan PokerNews Staff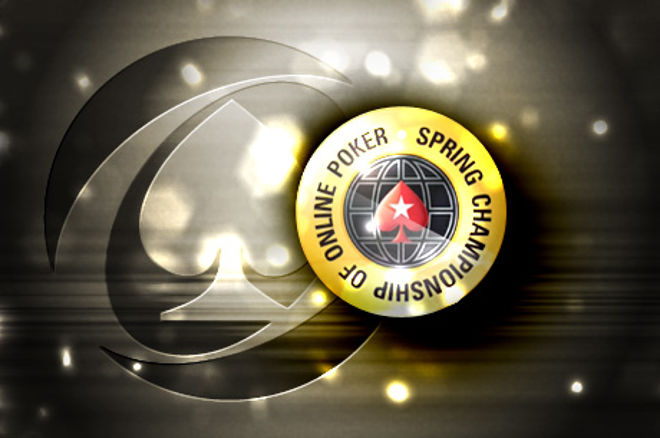 Ove godine Spring Championship of Online Poker imaće najveći PokerStars nagradni fond ikada, od $55 milliona.
SCOOP garantuje $15 million više u odnosu na SCOOP 2016. Ove godine SCOOP će imati 57 turnira i trajaće sedam dana duže, od 30. Aprila do 23 Maja.
Team PokerStars Pros Jake Cody i Felipe Ramos su prodiskutovali raspored u ekskluzivnom videu.
Turniri će imati pristupačne buy-inove već od $5.50, $55 i $530. Novi turniri ove godine su 'phase' turnir, Event #1 i tri high roller eventa. Takodje tu je Win the Button format, koji će biti predstavljen u tri eventa.
Jedan event će koristiti progressive 100% Knockout format.
SCOOP Raspored:
| Date | Time | # | Buy In | Variant |
| --- | --- | --- | --- | --- |
| April 30 - May 6 | various | 01 | | Phase 1 tournaments for L, M and H |
| Sunday, May 7 | 08:00 | 02L | $11 | NLHE |
| | | 02M | $109 | NLHE [Sunday, Kickoff SE] |
| | | 02H | $1,050 | NLHE |
| | 11:00 | 03L | $27 | NLHE [Progressive KO] |
| | | 03M | $215 | NLHE [Progressive KO, Sunday, Warm-Up SE] |
| | | 03H | $2,100 | NLHE [Progressive KO] |
| | 14:00 | 04L | $27 | NLHE |
| | | 04M | $215 | NLHE [Sunday, Million SE] |
| | | 04H | $2,100 | NLHE |
| | 15:30 | 05L | $27 | PLO [6Max] |
| | | 05M | $215 | PLO [6Max] |
| | | 05H | $2,100 | PLO [6Max, Sunday, Grand SE] |
| | 17:00 | 06L | $11 | NLHE [6Max] |
| | | 06M | $109 | NLHE [6Max] |
| | | 06H | $1,050 | NLHE [6Max] |
| | | | | |
| Monday, May 8 | 11:00 | 07L | $27 | NLO8[6Max, Progressive KO] |
| | | 07M | $215 | NLO8[6Max, Progressive KO] |
| | | 07H | $2,100 | NLO8[6Max, Progressive KO] |
| | 13:30 | 08L | $5.50+R | NLHE |
| | | 08M | $55+R | NLHE |
| | | 08H | $530+R | NLHE |
| | 15:00 | 09L | $11 | HORSE |
| | | 09M | $109 | HORSE |
| | | 09H | $1,050 | HORSE |
| | 16:30 | 10L | $27 | NLHE [Win the Button] |
| | | 10M | $215 | NLHE [Win the Button] |
| | | 10H | $2,100 | NLHE [Win the Button] |
| | | | | |
| Tuesday, May 9 | 11:00 | 01L | $11 | NLHE [Phase 1] |
| | | 01M | $109 | NLHE [Phase 1] |
| | | 01H | $1,050 | NLHE [Phase 1] |
| | 12:00 | 11L | $5.50+R | PLO [6Max] |
| | | 11M | $55+R | PLO [6Max] |
| | | 11H | $530+R | PLO [6Max] |
| | 13:30 | 12L | $11 | NLHE |
| | | 12M | $109 | NLHE |
| | | 12H | $1,050 | NLHE [Super Tuesday, SE] |
| | 17:00 | 13L | $5.50 | NLHE [3Max, Turbo, Zoom, Progressive KO] |
| | | 13M | $55 | NLHE [3Max, Turbo, Zoom, Progressive KO] |
| | | 13H | $530 | NLHE [3Max, Turbo, Zoom, Progressive KO] |
| | | | | |
| Wednesday, May 10 | 11:00 | 14L | $27 | Razz |
| | | 14M | $215 | Razz |
| | | 14H | $2,100 | Razz |
| | 13:30 | 15L | $215 | NLHE [8Max, High Roller] |
| | | 15M | $2,100 | NLHE [8Max, High Roller] |
| | | 15H | $25,000 | [8Max, High Roller] |
| | 16:00 | 16L | $11 | PLO8 [6Max] |
| | | 16M | $109 | PLO8 [6Max] |
| | | 16H | $1,050 | PLO8 [6Max] |
| | 17:00 | 17L | $11 | NLHE |
| | | 17M | $109 | NLHE |
| | | 17H | $1,050 | NLHE |
| | | | | |
| Thursday, May 11 | 11:00 | 01L | $11 | NLHE [Phase 1] |
| | | 01M | $109 | NLHE [Phase 1] |
| | | 01H | $1,050 | NLHE [Phase 1] |
| | 12:00 | 18L | $27 | FL Triple Draw 2-7 |
| | | 18M | $215 | FL Triple Draw 2-7 |
| | | 18H | $2,100 | FL Triple Draw 2-7 |
| | 13:30 | 19L | $11 | NLHE [Progressive KO] |
| | | 19M | $109 | NLHE [Progressive KO] |
| | | 19H | $1,050 | NLHE [Progressive KO, Thursday, Thrill SE] |
| | 15:30 | 20L | $27 | PLO [Heads-Up] |
| | | 20M | $215 | PLO [Heads-Up] |
| | | 20H | $2,100 | PLO [Heads-Up] |
| | | | | |
| Friday, May 12 | 11:30 | 21L | $11 | FL Badugi |
| | | 21M | $109 | FL Badugi |
| | | 21H | $1,050 | FL Badugi |
| | 13:00 | 01L | $11 | NLHE [Phase 1] |
| | | 01M | $109 | NLHE [Phase 1] |
| | | 01H | $1,050 | NLHE [Phase 1] |
| | 14:30 | 22L | $11 | FLO8 [8Max] |
| | | 22M | $109 | FLO8 [8Max] |
| | | 22H | $1,050 | FLO8 [8Max] |
| | 16:00 | 23L | $27 | NLHE [6Max, Zoom] |
| | | 23M | $215 | NLHE [6Max, Zoom] |
| | | 23H | $2,100 | NLHE [6Max, Zoom] |
| | | | | |
| Saturday, May 13 | 09:00 | 24L | $5.50 | NLHE [6Max, Progressive KO] |
| | | 24M | $55 | NLHE [6Max, Progressive KO] |
| | | 24H | $530 | NLHE [6Max, Progressive KO] |
| | 11:00 | 25L | $27 | 8-Game |
| | | 25M | $215 | 8-Game |
| | | 25H | $2,100 | 8-Game |
| | 13:30 | 26L | $215 | NLHE [Heads-Up, High Roller] |
| | | 26M | $2,100 | NLHE [Heads-Up, High Roller] |
| | | 26H | $25,000 | NLHE [Heads-Up, High Roller] |
| | 14:30 | 01L | $11 | NLHE [Phase 1] |
| | | 01M | $109 | NLHE [Phase 1] |
| | | 01H | $1,050 | NLHE [Phase 1] |
| | 16:30 | 27L | $11 | NLO8[8Max] |
| | | 27M | $109 | NLO8[8Max] |
| | | 27H | $1,050 | NLO8[8Max] |
| | | | | |
| Sunday, May 14 | 05:00 | 28L | $5.50 | NLHE [Progressive KO] |
| | | 28M | $55 | NLHE [Progressive KO] |
| | | 28H | $530 | NLHE [Progressive KO] |
| | 08:00 | 29L | $11 | NLHE [8Max] |
| | | 29M | $109 | NLHE [8Max, Sunday, Kickoff SE] |
| | | 29H | $1,050 | NLHE [8Max] |
| | 11:00 | 30L | $27 | NLHE [6Max] |
| | | 30M | $215 | NLHE [6Max, Sunday, Warm-Up SE] |
| | | 30H | $2,100 | NLHE [6Max] |
| | 14:00 | 31L | $27 | NLHE |
| | | 31M | $215 | NLHE [Sunday, Million SE] |
| | | 31H | $2,100 | NLHE |
| | 16:30 | 32L | $11 | PLO [6Max, Progressive KO] |
| | | 32M | $109 | PLO [6Max, Progressive KO] |
| | | 32H | $1,050 | PLO [6Max, Progressive KO] |
| | 18:00 | 01L | $11 | NLHE [Phase 1] |
| | | 01M | $109 | NLHE [Phase 1] |
| | | 01H | $1,050 | NLHE [Phase 1] |
| | | | | |
| Monday, May 15 | 11:00 | 01L | $11 | NLHE [Phase 1] |
| | | 01M | $109 | NLHE [Phase 1] |
| | | 01H | $1,050 | NLHE [Phase 1] |
| | 12:30 | 33L | $27 | FLHE [6Max] |
| | | 33M | $215 | FLHE [6Max] |
| | | 33H | $2,100 | FLHE [6Max] |
| | 14:00 | 34L | $27 | NLHE [4Max] |
| | | 34M | $215 | NLHE [4Max] |
| | | 34H | $2,100 | NLHE [4Max] |
| | 16:30 | 35L | $5.50 | NLHE [Bubble Rush] |
| | | 35M | $55 | NLHE [Bubble Rush] |
| | | 35H | $530 | NLHE [Bubble Rush] |
| | | | | |
| Tuesday, May 16 | 11:00 | 01L | $11 | NLHE [Phase 1] |
| | | 01M | $109 | NLHE [Phase 1] |
| | | 01H | $1,050 | NLHE [Phase 1] |
| | 12:00 | 36L | $11 | PLO8 [8Max] |
| | | 36M | $109 | PLO8 [8Max] |
| | | 36H | $1,050 | PLO8 [8Max] |
| | 14:00 | 37L | $27 | NLHE |
| | | 37M | $215 | NLHE |
| | | 37H | $2,100 | NLHE [Super Tuesday, SE] |
| | 16:00 | 38L | $11 | Stud8 |
| | | 38M | $109 | Stud8 |
| | | 38H | $1,050 | Stud8 |
| | | | | |
| Wednesday, May 17 | 11:00 | 39L | $11 | NLHE [Progressive 100% KO] |
| | | 39M | $109 | NLHE [Progressive 100% KO] |
| | | 39H | $1,050 | NLHE [Progressive 100% KO] |
| | 13:30 | 40L | $109 | PLO [6Max, High Roller] |
| | | 40M | $1,050 | PLO [6Max, High Roller] |
| | | 40H | $10,300 | PLO [6Max, High Roller] |
| | 15:00 | 41L | $55 | NLHE [8Max] |
| | | 41M | $530 | NLHE [8Max] |
| | | 41H | $5,200 | NLHE [8Max] |
| | 16:30 | 42L | $5.50 | NLO [8Max, Win the Button] |
| | | 42M | $55 | NLO [8Max, Win the Button] |
| | | 42H | $530 | NLO [8Max, Win the Button] |
| | | | | |
| Thursday, May 18 | 11:00 | 43L | $5.50 | NLHE [Deep Stacks] |
| | | 43M | $55 | NLHE [Deep Stacks] |
| | | 43H | $530 | NLHE [Deep Stacks] |
| | 14:00 | 44L | $27 | NLHE [Progressive KO] |
| | | 44M | $215 | NLHE [Progressive KO] |
| | | 44H | $2,100 | NLHE [Progressive KO, Thursday, Thrill SE] |
| | 15:00 | 45L | $11 | NL 5-Card Draw |
| | | 45M | $109 | NL 5-Card Draw |
| | | 45H | $1,050 | NL 5-Card Draw |
| | 16:30 | 01L | $11 | NLHE [Phase 1] |
| | | 01M | $109 | NLHE [Phase 1] |
| | | 01H | $1,050 | NLHE [Phase 1] |
| | | | | |
| Friday, May 19 | 11:30 | 46L | $11+R | NLHE |
| | | 46M | $109+R | NLHE |
| | | 46H | $1,050+R | NLHE |
| | 14:30 | 47L | $27 | NLHE [6Max, Shootout] |
| | | 47M | $215 | NLHE [6Max, Shootout] |
| | | 47H | $2,100 | NLHE [6Max, Shootout] |
| | 16:00 | 48L | $11 | NLO8 5-Card [6Max,Turbo, Zoom] |
| | | 48M | $109 | NLO8 5-Card [6Max, Turbo, Zoom] |
| | | 48H | $1,050 | NLO8 5-Card [6Max, Turbo, Zoom] |
| | 17:00 | 01L | $11 | NLHE [Phase 1] |
| | | 01M | $109 | NLHE [Phase 1] |
| | | 01H | $1,050 | NLHE [Phase 1] |
| | | | | |
| Saturday, May 20 | 10:30 | 49L | $27 | NLHE [6Max] |
| | | 49M | $215 | NLHE [6Max] |
| | | 49H | $2,100 | NLHE [6Max] |
| | 12:00 | 50L | $5.50 | NLHE [Progressive KO, Win the Button] |
| | | 50M | $55 | NLHE [Progressive KO, Win the Button] |
| | | 50H | $530 | NLHE [Progressive KO, Win the Button] |
| | 13:30 | 51L | $27 | NLO8[6Max] |
| | | 51M | $215 | NLO8[6Max] |
| | | 51H | $2,100 | NLO8[6Max] |
| | 15:00 | 01L | $11 | NLHE [Phase 1] |
| | | 01M | $109 | NLHE [Phase 1] |
| | | 01H | $1,050 | NLHE [Phase 1] |
| | 16:00 | 52L | $11 | NL 2-7 Single Draw |
| | | 52M | $109 | NL 2-7 Single Draw |
| | | 52H | $1,050 | NL 2-7 Single Draw |
| | | | | |
| Sunday, May 21 | 08:00 | 53L | $5.50 | PLO [6Max] |
| | | 53M | $55 | PLO [6Max] |
| | | 53H | $530 | PLO [6Max] |
| | 09:00 | 01L | $11 | NLHE [Turbo, FINAL Phase 1] |
| | | 01M | $109 | NLHE [Turbo, FINAL Phase 1] |
| | | 01H | $1,050 | NLHE [Turbo, FINAL Phase 1] |
| | 11:00 | 54L | $27 | NLHE [8Max] |
| | | 54M | $215 | NLHE [8Max, Sunday, Warm-Up SE] |
| | | 54H | $2,100 | NLHE [8Max] |
| | 12:30 | 01L | $11 | NLHE [Phase 2] |
| | | 01M | $109 | [Phase 2] |
| | | 01H | $1,050 | NLHE [Phase 2] |
| | 14:00 | 55L | $109 | NLHE [Main Event] |
| | | 55M | $1,050 | NLHE [Main Event] |
| | | 55H | $10,300 | NLHE [Main Event] |
| | 17:00 | 56L | $11 | NLHE [Turbo, Progressive KO] |
| | | 56M | $109 | NLHE [Turbo, Progressive KO] |
| | | 56H | $1,050 | NLHE [Turbo], Progressive KO] |
| | | | | |
| Monday, May 22 | 14:00 | 57L | $11 | NLHE [Player's Choice] |
| | | 57M | $109 | NLHE [Player's Choice] |
| | | 57H | $1,050 | NLHE [Player's Choice] |