Sunday Briefing: Powerfest Velike Nagrade na Partypokeru
Matthew Pitt
Balkan PokerNews Staff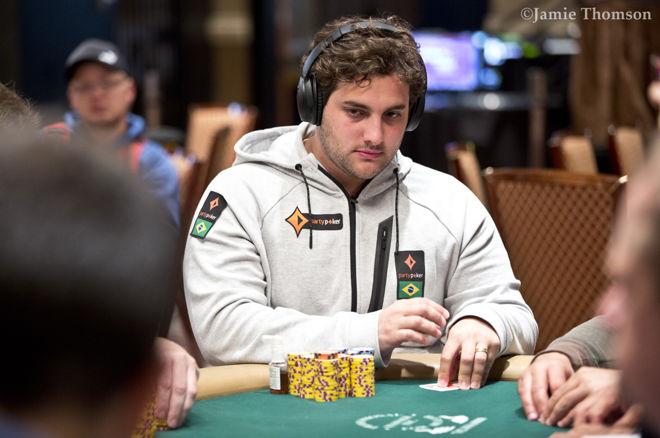 Zajedno sa 2017 PokerStars World Championship Of Online Poker i 888 XL Eclipse ovog mjeseca tu je i partypoker Powerfest i ovog vikenda su neke od najvećih nagrada osvojene na partypokeru.
Najveći score od $245,770 osvojen je kao prvo mjesto na 112th Powerfest eventu $5,200 Championship Event. Ovaj turnir imao je $1.5 Milion GTD nagradni fond i privukao je 297 igrača, uključujući partypoker ambasadore i njihove igrače.
Patrick "Patrick_Leonard" Leonard iskoristio je tri metka i na kraju nije bio njegov dan. Njegov kolega iz partypoker tima Natalia "N4talB" Breviglieri, Marcel "Marcel-luske" Luske, Dzmitry "Dzmitry_Urbanovich" Urbanovich, Anatoly "NL_Profit" Filatov i Kristen "Krissyb24" Bicknell takođe nisu bili ITM.
Richard "RichyDubini" Dubini završio je na 31-mjestu za $10,050, Joao "joaosimaobh" Simao na 25-mjestu za $10,050 i Roberto "WelshWizard" Romanello na 18-mjestu za $15,150 nakon drugog metka; Simao je osvojio Powerfest 118 za $123,725.
Turnir se završio u 5:10 a.m. BST u ponedeljak ujutro i "FkTheseGuysBro" je bio taj koji je pretvorio $5,200 u $245,770.
Značajni rezultati na PartyPokeru 10. Septembra uključuju:
| Tournament | Champion | Prize |
| --- | --- | --- |
| Powerfest #111: Championship Event $1M Gtd | oxxosandy | $152,600 |
| Powerfest #118: $500K Gtd High Roller | Joao "joaosimaobh" Simao | $123,725 |
| Powerfest #110: $500K Gtd | dennysramos2 | $75,000 |
| Powerfest #117: $300K Gtd High Roller | PureBaadi | $59,703 |
| Powerfest #108: $250K Gtd High Roller | BenRichards1 | $52,937 |
| Powerfest #115: $200K Gtd | pur3decided | $27,855 |
Takođe tu su bile i druge osvojene nagrade sa kojim su igrači uživali 888poker zahvaljujući XL Eclipse seriji koja je počela. Na turniru XL Eclipse #10 - $250,000 Whale, koji je imao 218 igrača i $1,050 buy-in. "CllsDntMttr" je igrač koji je ostao na vrhu, pobjedivši "KimberSlice" u heads-upu i osvojivši $64,826 za prvo mjesto.
Drugi veliki rezultat XL Eclipse turnir bio je $300,000 guaranteed Opening Event koji je premašio nagradni fond za $45,000. Najveći dio nagrade u iznosu od $58,270, ide na account "ImTriggered" koji je nadigrao 1,700 igrača i osvojio titulu.
Na kraju "iCrushU556" je osvojio XL Eclipse #11 - $100,000 Sunday Challenge za $20,252.
Možete pogledati sve XL Eclipse rezultate ovde.
Na PokerStarsu zajedno sa WCOOP serijom igrači igrali i standardne turnire. Ako želite da znate šta se dogodilo na Dan 8 WCOOPa, kliknite ovde.
Nekoliko dana nakon što je osvojio WCOOP titulu, Alex "Ahhh Is It?" Lindop, osvajač World Series of Poker narukvice, osvojio je $1,050 Sunday Grand PLO 6-Max. Lindop je nadigrao 173 igrača na high stakes Omaha turniru i tako uvećao svoj bankroll za $34,705.
Na no-limit hold'em izdanju Sunday Grand, Šveđanin "anteen" pobjedio je "EvnomiYa" heads-up i osigurao $40,897 isplatu. Britanac Ludovic "ludovi333" Geilich je završio kao treći za $22,827.
Značajni rezultati na PokerStarsu 10. Septembra uključuju:
| Tournament | Champion | Prize |
| --- | --- | --- |
| $5,200 Side Event | Justin "ZeeJustin" Bonomo | $60,000 |
| $700 Super-Sized Sunday | Jon "apestyles" Van Fleet | $82,417* |
| $215 Bounty Builder | NativeBounty | $36,984* |
| $215 Sunday Supersonic | Jonas "donut604" Mackoff | $33,160 |
| $109 Bounty Builder | CalmRevolver | $27,222* |
| $109 Sunday Cooldown | neeno1990 | $23,651 |
| Hot $215 | bar-bar9999 | $21,081 |
| Big $215 | MountainRo$e | $20,948 |
| Big $109 | grayzee1 | $19,696 |
| Hot $109 | MITS 304 | $18,951 |
| Hot $162 | vvikings88 | $12,818 |
| Hot $162 | kurtWSOP | $8,903 |
| $109 Sunday Wrap-Up | chokitson | $8,076 |
| $109 Bubble Rush | Philipoune | $7,615 |
| $109 Sunday Starter | holazse | $6,514 |
| Big $162 | UncleBenz13 | $5,984 |
*Includes bounties